Read time:
---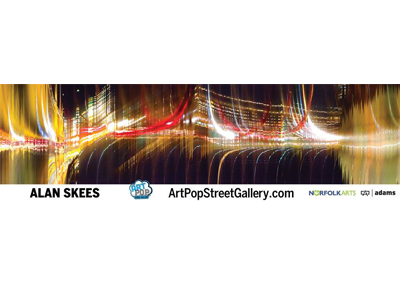 Assistant Professor of Art Alan Skees is one of four featured artists whose artwork appears on billboards around Hampton Roads. The program is sponsored by ArtPop, a North Carolina-based gallery that promotes local artists' work. "There are some amazing art communities all through the area," says Skees. "I think the Street Gallery is just another smart and fun way to bring art to everyone. I think we need more reminders of how important the arts are to America's growth and history and putting it right there beside the road for everyone to see is a wonderful way to do it."
Skees' work is called "American Glitch: Neo Regionalism - Suburb - Hampton Roads Bridge - Tunnel #3." His travels with his family inspired this series of prints. "We love to strike out on road trips whenever we can to see museums and national parks. I'm an experimental digital artist and constantly toying with cameras and software to create new works," says Skees. His work is featured not only on the billboards, but also on ArtPop's website (link below).
"As an artist, I love when a piece of finished work goes on display. You are putting a part of yourself out there for people to ponder and that is exciting for me. Showing work in a gallery or museum is very controlled experience for both the artist and viewer. When a work is put out publicly in a highly visible location you get such a different response to the work," says Skees.
---