Read time:
---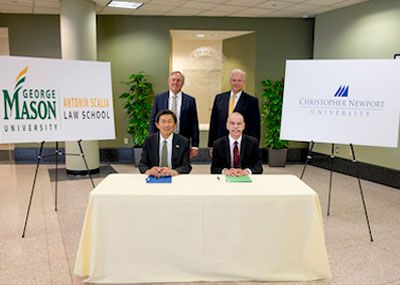 The Antonin Scalia Law School at George Mason University and Christopher Newport have announced a new dual-degree program to help students expedite their law school education.
Students participating in the new "3+3 program" will complete three years of undergraduate study at Christopher Newport before transferring to the Antonin Scalia Law School – ranked in the top 50 by U.S. News & World Report – for the final three years needed to complete both a bachelor's degree at CNU and a law degree from George Mason.
This new enhanced track reduces the time to graduate with a baccalaureate degree and law degree by one year. "One of our missions is to serve Virginia students as best we can," says George Mason Provost S. David Wu. "Since we have a top-rated law school, we felt that this program is a very direct and effective way of doing that."
To be eligible for the program, students must be able to complete all of the requirements of their major and Christopher Newport's general education curriculum by the end of the spring semester of their junior year of undergraduate study, maintain a 3.25 grade point average, and earn a competitive score on the Law School Admission Test. Students must be approved for the program their freshman or sophomore year, enabling them to apply for formal admission to the law school during their third year.
"We are pleased to be working with Christopher Newport to offer highly motivated students an excellent education at an exceptional value. The entire Scalia Law community looks forward to welcoming more outstanding Christopher Newport students to the law school," said Henry N. Butler, dean and professor of law at Scalia Law School.
"We are excited to partner with George Mason University," says Christopher Newport Provost David Doughty. "This agreement enables our pre-law students to accelerate their time to a law degree and affords them the opportunity to study with the outstanding faculty of the Antonin Scalia Law School."
"Christopher Newport University is a highly selective institution with a rigorous core curriculum. Students who participate in this new program will be prepared to be exceptional legal scholars at the Antonin Scalia Law School. If I was 18, I would do this program," says Robert Colvin, dean of CNU's College of Social Sciences.
Interested students should contact the Office of Admission at Christopher Newport at admit@cnu.edu.
---