Read time:
---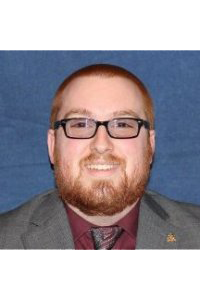 An accomplished student and current graduate student at Christopher Newport, David Hamblin recently presented his research paper – "Measurement Classification Using Hybrid Weighted Naive Bayes" – at the International Conference on Computational Intelligence and Virtual Environments for Measurement Systems and Applications, in Hungary. Hamblin's work uses machine-learning to analyze atmospheric data collected during NASA space missions.
A double major in computer engineering and computer science, Hamblin's road to becoming a credible voice in the intelligence programming community has been demanding. After four undergraduate years at CNU, Hamblin began working under the tutelage of Dr. Dali Wang, an associate professor in computer and electrical engineering, for his graduate studies.
"The scientific project discussed in my paper began when I started working on Dr. Wang's NASA grant in February 2015, beginning the bulk of the project at nearby NASA Langley Research Center," Hamblin says. By this time he had returned to campus to continue his graduate work toward a master's degree in computer science and decided to include the paper in his master's thesis. While at NASA Langley, he gained hands-on experience in NASA's oldest research facility.
Once his paper started taking form, Hamblin began serious preparation with Wang and Dr. Gao Chen from NASA Langley. "Dr. Wang helped me prepare for the trip by reviewing the presentation I created and advising me about some of the elements of international travel. He also co-authored the paper and attended the conference in Budapest with me as he presented several other papers," Hamblin says.
Hamblin's research will also impact others, as IEEE's online Xplore Library will feature his paper as a resource for students around the world. IEEE is the world's largest technical professional organization for the advancement of technology. Hamblin says, "The Xplore Library is a great asset for discovering work done in the field of computer science and engineering and building off of that research to create unique solutions to a student's project. I myself used it in one of my computer science classes."
Amid these accomplishments, Hamblin exudes a glowing sense of pride in his alma mater for the opportunities it has provided: "It makes me excited for how the University will develop in the future and makes me proud to be an alumnus."
---