Read time:
---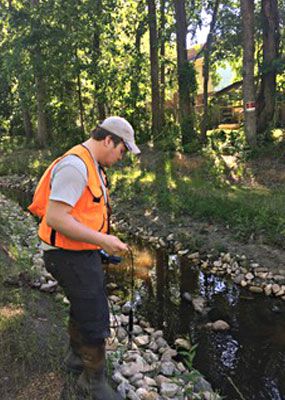 Graduate student Brendan Player has been awarded a grant from the Virginia Water Resources Research Center's Student Competitive Grant Program to analyze nutrient uptake – the process by which plants draw energy from the soil – in restored and degraded sections of streams in Newport News.
Player's research will indicate if nutrient uptake varies with restoration project age, and is significant as it will shed light on the success of such projects in limiting downstream nutrient pollution into the nearby James River and Chesapeake Bay.
"I hope this will assist the city of Newport News in future restoration projects as well as municipalities across the coastal United States," says Player.
Player graduated in May with a bachelor's degree in environmental biology, and is currently enrolled in CNU's master of science in environmental science program. This research will form part of his master's degree thesis. Player's adviser and co-investigator on the project is Dr. Gary Whiting, an expert in ecology, wetland ecology, geographic information systems, biometry and global change in the Department of Organismal and Environmental Biology.
---