Read time:
---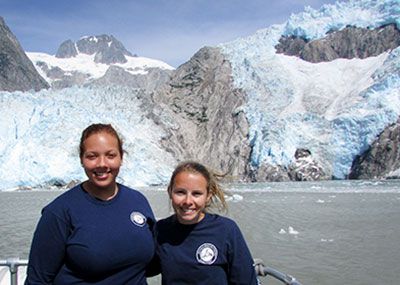 Last summer, Chenoa Payne and I traveled to Seward, Alaska to work and gather data for my master's thesis. We worked at the Alaska SeaLife Center, a state-of-the-art aquarium, research and wildlife rehabilitation center. We worked in the research department when we were not in the field gathering data.
For my research, we ventured into Kenai Fjords National Park to gather data on birds, seals and sea lions. Using thermal imaging cameras, we measured the heat in the environment rather than the visible light. Upon returning to the lab each day, we indexed and analyzed each image and counted the birds in each frame. Through our analysis, we are testing potential applications of thermal technology and determining which conditions are ideal for data collection.
Even though we worked all summer, we were also able to explore the small town of Seward and surrounding areas. We hiked 3,000-foot Mount Marathon and some of the nearby glaciers, and went on some boat tours.
We saw several species of whales and porpoises and observed their various behaviors throughout the summer. Humpback whales and Dall's porpoises were common while it was more exciting to spot a fin whale or a pod of orcas. We tried to take some time to watch every whale we came across because we never knew what they were going to do. Some breached while others waved their pectoral fins or slapped their tails on the water. The porpoises liked to swim in the bow wake of our boat so the captain drove faster, encouraging them to play. We never knew what we were going to find, and we never went home disappointed.
After returning to Christopher Newport, Chenoa and I continued to analyze data and draw conclusions from our observations. We submitted abstracts to the Alaska Marine Science Symposium and were invited to attend the conference in Anchorage, Alaska, in January.
On the first day, we displayed Chenoa's poster and listened to several speakers discuss climate change, extinct Alaskan mammals and the future of the Arctic. At the poster session that night, Chenoa presented her research on potential applications of thermal technology in the study of seals to an audience that included research scientists, university professors, college students, land managers and even high school students.
On the second day, I presented my research on the efficacy of thermal imaging in the study of seabirds. I discussed what observations we had made and the potential for future research and applications. We met people from all over Alaska who were interested in our research and we discussed potential collaborations. We learned a lot about the different ecosystems and marine animals found throughout Alaska and enjoyed meeting people who shared our interests and passion for the environment.
Ann Eckmann graduated in 2016 with a bachelor's degree in biology and is currently pursuing her master's degree in environmental science at CNU. Chenoa Payne is a senior biology major.
---