Read time:
---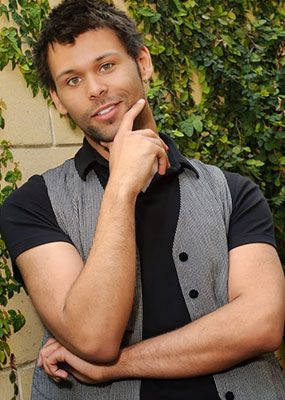 A dedicated theater major since first stepping foot on campus, Christopher Embrey (15') now forges ahead with his promising acting career.
"When I was younger my favorite movie was the 1982 version of "Annie" starring Carol Burnett. Her comedic timing in that film was impeccable and I would always find something new about her acting every time I'd watch the movie," Embrey explains. "All the different characters she created on the 'Carol Burnett Show' were fascinating to me as a kid."
Growing up surrounded by these influences proved to be excellent preparation for Embrey to pursue his dreams at the collegiate level. In the summer of 2009 he was chosen to attend the Virginia Summer Residential School for Arts and Humanities, which Christopher Newport hosted that year. "I immediately fell in love with the campus, the facilities and its surrounding area," he says. "I was convinced it was the right school for me."
Embrey's success at Christopher Newport soon led to several opportunities, the most notable being an acting internship at the Orlando Shakespeare Theatre. "It was a chance I wouldn't trade for the world," he says. "I leaned so much about myself, my craft and the business of theater through workshops with some of the other professional actors. I taught many Shakespeare workshops throughout the season, and was an actor in four shows; two being world premieres," says Embrey. His internship performances included: Ted in "Peter and the Starcatcher"; Francisco in "The Tempest"; a role in a world premier adaptation of "Pericles"; and Merlin/Mr. Pinch in the world premier of "Magic Treehouse: A Ghost Story for Mr.Dickens"
Embrey later returned to Orlando as an actor for the Orlando Shakespeare Theatre's production of "Antony and Cleopatra," starring Michael Dorn of "Star Trek: The Next Generation" fame. He will also join the American Shakespeare Center's "Wicked Folly Tour," a dream finally come true. "I've wanted to work for them since I was in high school," he explains. "I'm really looking forward to the touring part of my contract since I've never been on a tour before. I'm ecstatic to be working for them!"
After such a run of success, Embrey takes care to praise his grandparents for their incredible support. "They were my biggest influence when I attended college at Christopher Newport. Without their love and support I wouldn't have been able to attend college." Tragedy struck in 2011, however, when his grandfather passed away. "I was devastated," he says. "but luckily CNU had already felt like a home away from home. During that time, I never felt alone due to the love and support I received from my peers and professors."
Embrey hopes to take what he learned at Christopher Newport to the stage and beyond. "To be a Captain is to be a leader," he explains. "It means taking initiative and sharing the knowledge you've learned at CNU to give back to the community. During my off time, I still love to teach Shakespeare workshops at middle and high-schools in my area. Being a Captain for life is a very powerful thing to me."
---