Read time:
---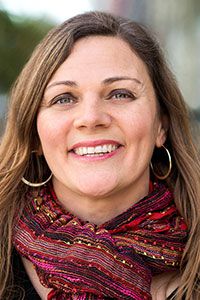 In the 17 years since leaving Christopher Newport with her English degree, Casey Johnson ('00) has exemplified a life of significance with her contributions to the GreenLight Fund, a venture philanthropy firm based in Boston. Venture philanthropy firms use investment and venture capital methods to create a network of nonprofits and other service organizations to achieve broad philanthropic goals.
"When I left CNU I went to grad school in New York and earned my master's in English," she says. "I thought I was going to teach, but I started volunteering for a literacy program in Harlem and fell in love."
From there Johnson established herself in the service work sector specializing in literacy, pre-literacy, family engagement and early childhood work. After moving to Boston with her husband, she was introduced to the GreenLight Fund.
"GreenLight is known as an import funder that looks at critical gaps for children and families in poverty. We understand what those gaps are and then go around the country and find the best nonprofits that have demonstrated success in addressing those needs," Johnson says. "It's a unique, interesting way of doing philanthropy."
Not long after working for the Green Light Fund, Johnson moved to San Francisco and had a fateful lunch meeting with the organization's two co-founders. She explains, "They said, 'we think we're ready to take GreenLight outside of Boston on a pilot in the Bay Area. Would you launch it for us?' Now five years later I'm the founding executive director."
GreenLight is now in five locations around the country – Boston, San Francisco, Philadelphia, Cincinnati and Detroit – and will soon announce an expansion to Charlotte, North Carolina this spring. Johnson was recently asked to join the national leadership team as national portfolio director. She has since had remarkable success in achieving the project's goals.
"I work with the organization to find local nonprofits, build the board committee, take board seats and help hire the local executive leadership," she explains. "As an executive director, I've brought in four investments and four deals over the last five years. We're probably going to continue to grow one new city every year, which is exciting."
---