Read time:
---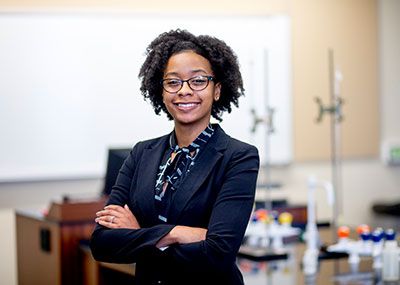 Antoinisha English is the new adviser for Christopher Newport's Pre-Med and Pre-Health Programs. She graduated from George Mason University with a degree in biology and is a nursing care partner at Sentara Leigh Hospital in Norfolk. Previously she was a peer mentor for the Honors College at George Mason University where she gained extensive experience building relationships with students and advising them regarding career goals.
As adviser, English is determined to give students the best resources and guidance. "The community truly needs passionate health-care professionals," she says. "I tell students, 'This is where you are, and this is where you need to be to graduate and to go on to the professional field you want to get into.' I'm honored that I get to help students pursue their dreams – they're the future of health care."
"Ms. English has the perfect personality for advising, upbeat but also up-front," says Dr. Gwynne Brown, Director of Pre-Med and Pre-Health Programs. "She really enjoys helping students, and it shows. The enthusiasm she brings to the job is evident from the first time you meet her and is reflected in the positive feedback I have heard from students. I am incredibly glad to have her here."
Christopher Newport's Pre-Med and Pre-Health Programs offer scholarships, intensive advising and mentoring, informative seminars and workshops, and rich clinical and service-learning opportunities. Successful students are guaranteed admission to Eastern Virginia Medical School, the Edward Via College of Osteopathic Medicine or both after they graduate from CNU, as long as they meet the requirements of the program(s).
---