Read time:
---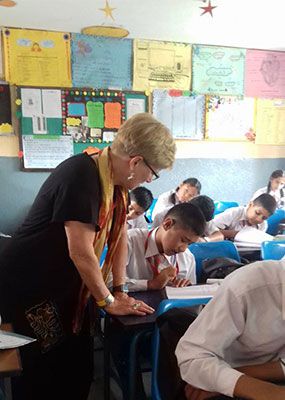 Dr. Rebecca Wheeler, professor of English, served as an English-language specialist in Nepal as part of a State Department initiative that recruits leading academics to conduct English language programs overseas and promote goodwill between the U.S. and other nations. Wheeler led intensive workshops with secondary teachers and teacher educators in Kathmandu, Dhulikhel and Pokhara.
"International experiences in South and Central Asia have transformed my research agenda, turning my focus to issues of teaching writing in developing nations," says Wheeler. "I find working in Nepal to be vital, in both senses of the word – crucially important and deeply alive. And I am so grateful for the warmth and welcome from Nepali teachers and colleagues as we explore together western ways of writing."
Wheeler's success led to an invitation by the Nepali English Language Teachers Association to serve a three-year term as expert adviser in teaching writing. She is also conducting research with Dr. Laxman Gnawali and graduate students from the University of Kathmandu to investigate how writing is taught in high schools in Nepal.
A linguist, Wheeler has also specialized in linguistically informed approaches to teaching Standard English in dialectally diverse classrooms, focusing on helping urban teachers accurately assess and effectively respond to students who speak African-American Vernacular English.
At Christopher Newport, Wheeler has established an undergraduate research group on teaching writing in developing nations, allowing CNU students to collaborate with Nepali graduate students on joint educational issues. In 2016, she was appointed a Fulbright Scholar, teaching English at the Tajik State University of Commerce, in Khujand, Tajikistan.
---