Read time:
---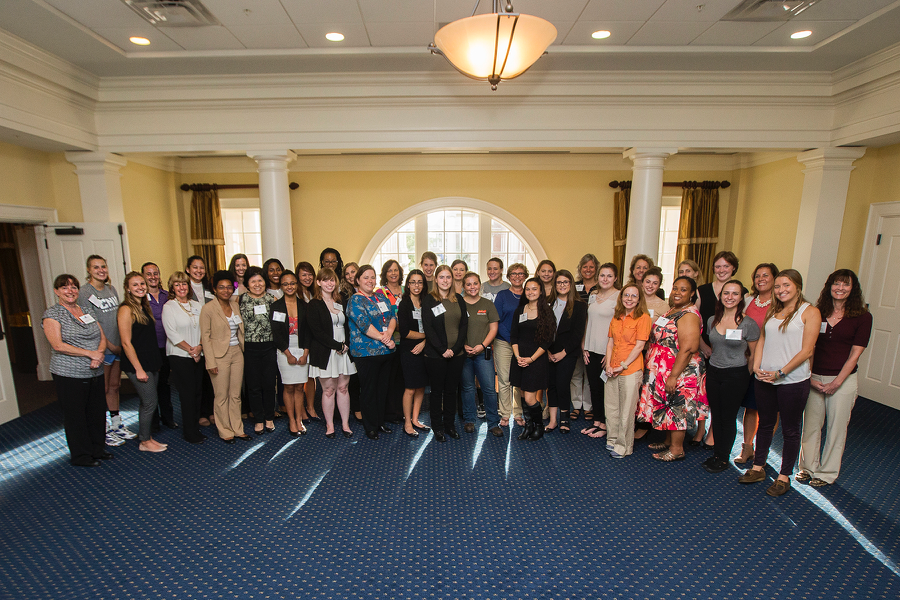 The Department of Physics, Computer Science and Engineering's (PCSE) Mentorship Program offers female students the opportunity to gain exposure and advice through interaction with professionals. These volunteers come from a wide array of leading technology firms, including NASA, Canon, Newport News Shipbuilding, and the MITRE Corporation, among many others. They work one-on-one with students to cultivate a rewarding and educational experience. The mentors share their insights and experiences, provide career guidance about expectations, networking and leadership skills, and community/social responsibility.
"This program has been very helpful and something that none of my other friends have," says computer engineering major Miya Washington. "I've gotten great career advice and am excited for the opportunities that will come from this experience."
Mentor Mary Elizabeth Wusk, a program manager at NASA, has enjoyed building relationships with the next generation of technology leaders. "I spoke about my personal experiences transitioning from college to my position at NASA," she says. "I also provided an overview of the work we are doing with technology development and ended with a tour of our research aircraft. I have been impressed with the PCSE program and other unique opportunities the girls have benefited from to augment their academic experience, develop connections in the community and properly prepare them for what's to come when they enter the workforce."
Students who participate in the program are matched with mentors based on similar disciplines, career goals and interests. For more information, contact Dr. Anton Riedl, chair of the PCSE Department, at (757) 594-7065 or riedl@cnu.edu.
2017-18 Mentors
Erica J. Alston
NASA
Deputy Program Manager for Aerospace Research and Career Development
Suzanne Beckstoffer
Bayport Credit Union
Chairman of the Board
Karen Berger
NASA
Facility Manager, Langley Aerothermodynamics Laboratory
Erin Burdick, P.E.
Kimley-Horn and Associates
Civil Engineer
Patricia L. Carbone
The MITRE Corporation
Director of Special Projects, Joint and Services Portfolio
NATO Portfolio Director
Dr. Nee-Yin Chou
CW Optics
President and CEO
Leah Colvin
Newport News Shipbuilding
Engineering Manager
Gabriella Dipini
Anheuser-Busch Companies
Packaging Specialist, North America
Julie M. Dobschuetz
Arcadis US
CD High Performance Director
Belinda Donavant
Canon Virginia
Director, Product Engineering
Jennifer Haddox-Schatz
Daniel H. Wagner Associates
Software Engineer
Maria Herbert
MCH Consulting Services
Consultant, Supply Chain and Logistics
Stacey Hodges
Canon Virginia
Quality Director, Medical Products Group
Katelyn Kimm
Anheuser-Busch Companies
Business Process Manager
Susanne Leonard
Newport News Shipbuilding
Manager, Engineering
Lauren Matthews
Anheuser-Busch Companies
Operations Group Manager
Deborah Morewitz
Newport News Shipbuilding
Director, IT Solutions Development
Cynthia Popernack
Canon Virginia
Senior Engineer
Elaine E. Seasly
NASA
Contamination Control and Planetary Protection Lead, Systems Integration and Test Branch
Jenifer Solomon
Newport News Shipbuilding
Director, Engineering
Teresa Urbaniak
Newport News Shipbuilding
Systems Engineer
Mary Beth Wusk
NASA
Program Manager, Game Changing Development Program
---