Read time:
---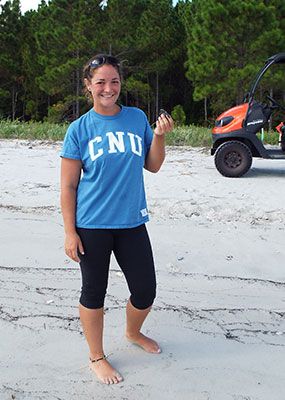 Botany Bay Island, nestled among South Carolina's Sea Islands, lies just off the coast, about 40 miles south of Charleston. It is a varied landscape of wetlands, marshes, woods and beachfront that is home to diverse plants and wildlife, including a nesting ground for loggerhead sea turtles. Maggie McCartney (BS '11, MS '12), whose job is to care for those turtles, is also a resident.
McCartney is property and natural resource manager on the island, which is privately owned but protected under a conservation agreement. She has many responsibilities, including patrol and security, as well as maintaining boats, buildings, vehicles and equipment. "Most importantly, at least to me," she says, "we manage the natural resources of the island." It's a job she worked hard to prepare for, earning her bachelor's degree in biology and a master's degree in environmental science at Christopher Newport.
McCartney's chief concern is a turtle nesting project along approximately two miles of Atlantic Ocean beach. From the start of nesting in May, through October when hatching ends, she spends 4-8 hours a day on the beach locating, protecting, monitoring and inventorying nests, as well as observing the adult and hatchling turtles. "We average just over 200 nests per year," she says. "Each nest that successfully hatches produces as many as 150 baby turtles."
Her work is vital – loggerheads are listed as an endangered species by the U.S. Fish and Wildlife Service, a fact that is always at the forefront for McCartney. A strong dedication to conservation has long been a part of what drives her. "My parents instilled in me deep love and respect for the natural world from a very young age," she says. "Close and continued relationships that I formed with my advisers and professors at CNU inspire my drive to truly understand the natural world and to protect and preserve what I can."
For McCartney, the best part of work at Botany Bay is that each day offers new challenges and discoveries. "One of the most amazing things about this island is that there are endless opportunities for scientific exploration," she says. "I plan to continue to develop the sea turtle program, possibly adding college internships in the future." She is also working on developing artificial oyster reef installations and has plans for wildlife, flooding and mapping surveys, among other projects that will enhance conservation efforts on the island.
McCartney's rich experience at Botany Bay mirrors the depth of opportunity she found at Christopher Newport as an undergraduate and graduate student in the Department of Organismal and Environmental Biology, where she immersed herself in coursework and research with her peers and faculty mentors. "The knowledge and relationships I formed while at CNU are such a huge part of who I am and what I do every day," says McCartney.
She worked most closely with Dr. Jessica Thompson and Department Chair Dr. Michael Meyer. "Dr. Thompson's guidance and example has shaped me as a strong, independent female scientist in many ways." says McCartney. She was Meyer's teaching assistant, and later taught on her own as an adjunct faculty member. "Dr. Thompson and Dr. Meyer, along with several other faculty members, continue to be cherished friends and advisers in my life today," says McCartney.
"Maggie was an incredible student and is a fabulous person," Meyer says. "Her passion for biology, especially herpetology, is infectious. Maggie is a true professional, and her work with turtles is an opportunity most field biologists only dream about."
McCartney's work at Botany Bay is hard and carries with it the special burdens of protection and conservation. But it also brings her a unique reward. "Naturalists see the world in a different way than most people," she says. "And a huge part of that is simply perspective. Having an intimate understanding of living things and how they interact allows me to analyze many new challenges in natural resources management and other areas of life."
---