Read time:
---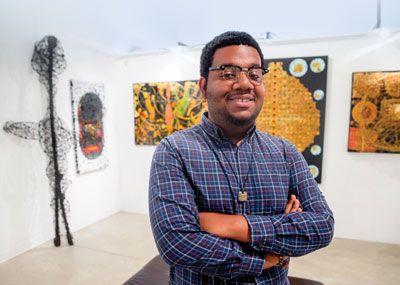 For as long as Kenlontae' Turner '17 can remember, art has been a part of his life. "Whether it be visual art, film, dance or fashion, I always felt like I was destined to be an artist," he says.
A studio art major, Turner pursued a double-minor in art history and museum studies – education he applies today as a gallery assistant at the Linda Matney Fine Art Gallery in Williamsburg.
"My mom was the one who really peaked my interest in art; she was the one who taught me how to color in the lines, and to me, that was like watching Da Vinci create one of his masterpieces," he recalls. "Art was both something that helped me to express myself and responsible for some of my fondest memories."
Christopher Newport's Department of Fine Art and Art History intrigued Turner even before he attended CNU. "I remember when they were doing construction on the Ferguson Center and always felt that it was a place that catered to artistic vision and creativity. I had no idea how right I was until I became a part of ArtCNU and was around people who lived and breathed art," he says.
Now, at the Matney Gallery, Turner assists Lee Matney, the gallery's director and curator. In this role Turner helps install, promote and organize exhibits. "I think the most valuable thing I have learned from this experience is how marketing plays a vital role in curating and managing an art gallery," he says. "Although I did not study marketing in school, I have gained a greater appreciation for it and can clearly see how important it is in order to get people engaged with a gallery or museum. CNU prepared me by teaching me how to promote, appreciate and understand art."
Turner must identify materials and mediums used in art pieces, study connections between contemporary artwork and its history, and understand how to handle pieces – skills acquired as an undergraduate. A determined artist, he hopes to become a museum curator; an art history professor specializing in Native American, African and/or African-American art; and to continue developing his own artistry. In the next year he plans to attend graduate school for art history and museum studies.
---