Read time:
---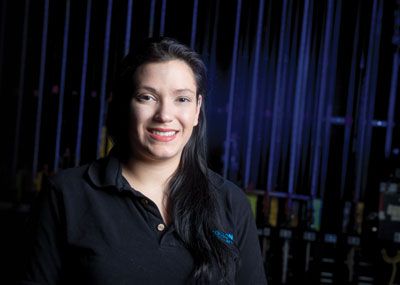 Allie Polansky's ('13) student work as a theater technician helped guide Christopher Newport to four years of memorable productions. Now she continues to apply her talents at CNU as lighting director in the Ferguson Center for the Arts.
Some of a stage crew's hardest-working members include theater technicians, whose contributions touch many areas. Everything the audience experiences during a show – from lighting effects and sound systems to props and costumes – is created and maintained by these dedicated individuals.
After Polansky came to Christopher Newport and declared a theater major, she discovered the rigorous demands of theater tech work firsthand. "I was working on design in the Ferguson Center, and being that busy definitely prepared me for the working world."
While all theater tech students must work backstage for a set number of shows, Polansky stayed involved well beyond normal expectations. "Usually a student will work in one production a semester," she says. "I ended up working nearly every production in some capacity for the remainder of my four years at CNU." She was also a key contributor to many senior thesis performances. Polansky notes, "Theater students are required to perform short plays or scenes for their final thesis, and I put together the lighting arrangements for most of them."
Shortly after graduating in 2013, she continued her theater work with two years of lighting design at Busch Gardens in Williamsburg. "I worked on their lighting event staff where I maintained the visual effects for the park's holiday events, such as Howl-O-Scream and Christmas Town," she says.
Still, her original success at the Ferguson Center motivated her to return and contribute her talents whenever possible. "Ever since I graduated, I've been coming back to CNU as an independent designer to work on the Music Department's annual operas," she says. "It was through this work that I returned was eventually hired as lighting director at the Ferguson Center."
And as she continues to thrive professionally through her daily work, Polansky always seeks ways to make productions better. "My ongoing goals are to continue to streamline our lighting equipment," she says. "We can teach our students and employees more valuable technical information so they leave this job having learned as much as possible."
---