Read time:
---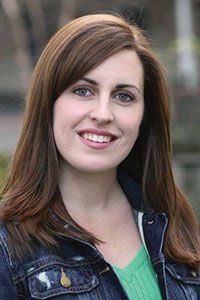 When Erin Plisco ('09, MAT '10) graduated from Christopher Newport, it set her on an exciting path toward fulfilling her dreams. From winning a Gates Scholarship, to being named a Distinguished Graduate Student, to serving as assistant director of the Tucson Symphony Orchestra Chorus, she has a bright future ahead in the world of music.
Active in CNU life, she was not only a part of the President's Leadership and Honors Programs but also a member of several honor societies and a founding member of CNU Voices. Beyond Christopher Newport, Plisco earned a master's degree in choral studies from Trinity College, Cambridge University, where she attended on a full-cost award through the Gates Cambridge Scholarship. She is currently pursuing a PhD in choral conducting at the University of Arizona where she recently was named the Distinguished Graduate Student in the Fred Fox School of Music.
Plisco hopes to work at the collegiate level, saying it provides the perfect setting for choral music. "It's a dream, and you need a doctorate for a position like that, so it's the last box I'm checking off," she says.
Plisco's post-CNU endeavors have prepared her well. After graduation she took time off from academics to explore choral directing at Pinecrest High School in North Carolina and found the experience integral to her success. "When you go to graduate school, especially in a field like choral music or conducting, you're going in with the intention that you're refining skills you've already established," she says. "There are a lot of master's students who come in without any teaching experience, and I think they really struggle because they haven't had that time in front of students, and there's so much that you can only learn by doing it."
To those interested in a similar career path, Plisco offers encouraging words: "Be patient in terms of short-term failures and short-term successes. It's hard, when you're in the moment, to look beyond that specific year, or that specific class, but just keep going and keep looking at the big picture – don't let individual setbacks or short-term bumps in the road affect your long-term trajectory."
---