Read time:
---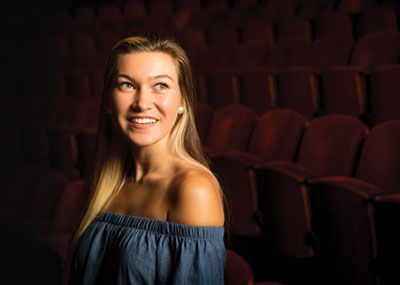 Dedication to her craft helped Christopher Newport junior Lauren McCaffrey earn both a Ferguson Enterprises Performing Arts Scholarship and a pivotal role in an upcoming play.
The scholarship, which includes a service component and is typically awarded to incoming freshmen, came as a surprise to McCaffrey. She received the honor as a sophomore following an unexpected opening for another Ferguson Scholar. "I was evaluated by the staff based on my first two years of stage and class performance. Thankfully, my hard work in art and academia paid off," she says.
Earning the scholarship coincided with landing a lead role in a production of "12 Angry Jurors" by the Department of Theater and Dance. "I play the role of dissenting protagonist, juror No. 8," she explains. "My character desperately wants to see justice triumph in the midst of a possibly corrupt court case where the life of a young boy is on the line." The play, usually known as "12 Angry Men," centers around the murder trial of a son convicted of killing his father. A jury of 12 is called to decide a verdict, and McCaffrey's character becomes the lead protagonist in stalling the proceedings so everyone can properly deliberate the boy's fate.
As she pursues stage roles, McCaffrey has become comfortable with the process. "Since performance majors are required to audition for every show season, the process is quite familiar," she says. "The anticipation in my gut, however, is always fresh. This was the final audition of the year, and I wanted so terribly to succeed."
Playing juror No. 8 provides more than just McCaffrey's first chance at a lead; it also allows her to add a female perspective to a typically male character. "I hope to bring some different elements as a female to this well-known role usually played by a man," she says. "To finally get to delve into the mind of a character like this, which goes way beyond just receiving a callback, is thrilling."
Through her work, McCaffrey also embraces the opportunity to inspire incoming students. "My biggest support came from friends within the department who understood the process themselves and who have been rooting for me since the beginning," she says. "I can now encourage freshmen to persevere just like others did for me."
Beyond academics and acting, McCaffrey volunteers at a local nursing home where she makes a positive difference. "As a Ferguson Scholar, I now only want to work harder and be an example for other young artists as well as the Hampton Roads community," she explains. "This scholarship exemplifies what the performing arts are for: using your gift to give something meaningful back to the community."
---