Read time:
---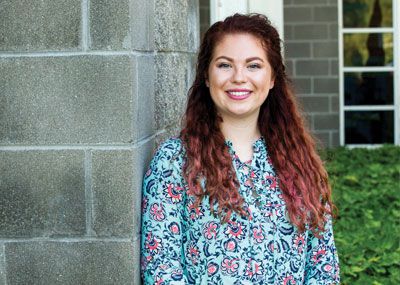 Integral to a Christopher Newport education, internships provide valuable hands-on experience in one's field of interest. For senior Alexsa Good, working at the Peninsula Fine Arts Center (PFAC) has confirmed her vocational choice as she works with patrons of all ages.
Last fall Good helped teach the hand-building side of ceramics while another instructor taught on the wheel. The following semester, she served as a gallery host at major Center events, and this summer worked with children ages 5-8 in art classes. "I enjoyed getting to know a new group of kids each week. What they came up with artistically was always different," she says.
Good continues her work with PFAC this fall as a graphic arts intern. "Because of these opportunities I will graduate knowing how to teach ceramics to a wide age range, be comfortable teaching art to young children, and have a working knowledge of multiple museum positions and experience in my field of study, graphic arts," she states.
A fine arts major with a concentration in studio art, Good is also pursuing an art history minor at CNU. "I have known that I wanted to pursue art since my junior year of high school when I took a graphic arts class," she says. "Working with Adobe Illustrator, Photoshop and InDesign expanded my view of art, and I knew I wanted to be a graphic designer by the time I graduated high school." Then at CNU she took a ceramics class, fell in love with the medium and added it to her list of arts to pursue.
Beyond the classroom, Good participated in the Marching Captains for three years, has served the Kappa Pi art fraternity as vice president and now president, and is a member of the Alternative Greek Council. Post-CNU she hopes to pursue a career in graphic design and continue working with ceramics.
"CNU has given me opportunities and life experiences that have shaped my career path and removed any doubt about life after graduation," she adds.
---