Read time:
---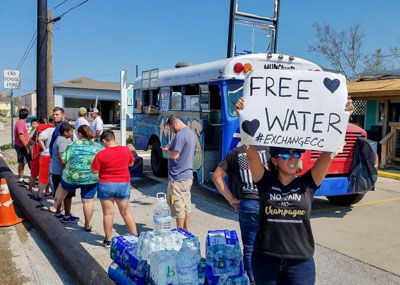 Fraternity brothers, fellow Captains and now co-workers. Two Christopher Newport alumni entrepreneurs joined forces this fall to make their businesses, Munchies Bus and The Exchange, a platform to support hurricane relief efforts.
After the events of Hurricane Harvey, which the American Red Cross calls the worst flooding disaster in U.S. history, alumni Jeremy Wells '06 and William "Hank" Harrison '12 mobilized their food truck, Munchies Bus, to aid those impacted by the storm on the Texas coast. "We like to think that if it was us who was hit by the storm our neighbors would come help, so in reality it was just the neighborly thing to do," says Wells, who majored in information science at CNU. Harrison was a history and philosophy double major.
In addition to Munchies Bus, the team has a restaurant in the Corpus Christi area. The Exchange is host to an art gallery, restaurant and bar. Their businesses, and a partnership they formed with other restaurants, gave them the resources they needed to fulfill their slogan "feed the need" – which in the past has meant hungry beachgoers. They provided free food to those in need due to the impact of the storm. The team also collected donations and held charity events.
"The Munchies motto has always been to 'feed the need' but when this tragedy happened we got a new understanding of what that really means. We fed over 5,000 people affected by this tragedy – the number just kept growing each day," says Wells. Seeing the community come together through the rebuilding efforts sparked a fire within the businessmen, and they now plan to transition Munchies Bus to a nonprofit entity with a single mission: to feed those in need.
While Wells says CNU instilled in them the skills needed to succeed, it was their fraternity that gave them the bond and friendship needed to work together. "We always have each others' back and really can trust each other to have our best interests at heart," says Wells.
---