Read time:
---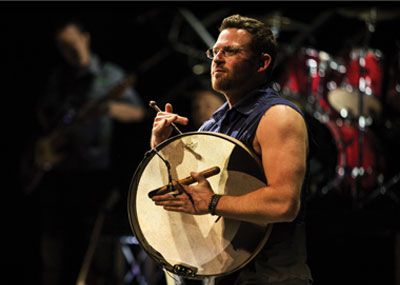 From performing in his high school marching band to tackling technical theater work in college, Chris Smith '07 exudes a passion for the performing arts. Today he travels the nation with "Rockin' Road to Dublin," his stage show featuring a fresh take on traditional Irish dance.
"I always knew I was a hands-on, fine-arts type of person. I wanted to go to school for lighting and design, so that's what I was seeking when I started to look at schools," Smith says. "When I came to CNU and saw it had a growing theater program with all-new facilities being built in the near future, I knew this was the place for me."
He soon discovered the vast opportunities Christopher Newport provided, and his experience in marching band came full circle. The University had debuted a football team in 2002 and opened doors to the Ferguson Center for the Arts in 2005. "The icing on the cake was the creation of the marching band. Being in drumline created some of my best memories in high school. To have the opportunity to continue that and be a founding father – to help start their traditions – ranked this school an 11 out of 10 for me," Smith notes.
While he also settled into CNU's theater scene, an opportunity presented itself beyond campus. Busch Gardens had employed him as a "behind the scenes tech guy," but when a performer left the company, percussionist Smith pursued the vacant spot. "I said 'why not,' auditioned, and got hired. I then started working in the Irish band at Busch Gardens in the summer of 2006."
The tides began turning for Smith, who fell in love with the performer's life and made strong connections within the Busch Gardens community. "I ended up working there over 10 years," he explains. "I started to learn what I was capable of as a performer and a live musician." He soon met Scott Doherty, who would become a close friend and business partner.
Doherty began Irish dancing at age 6 at the O'Shea-Chaplin Academy of Irish Dance in Boston. As he became proficient in dance, he proved dominant in competition, including eight New England championships, the North American championships and the Great Britain championships. Doherty made his professional debut in 2005 with the North American tour of "Riverdance" and in 2009 became the men's world champion of Irish dance.
"We ended up becoming roommates and would talk to each other about shows and performances," Smith says. "One day we were in the gym and realized we wanted to create our own show, and our ideas started to blend together into this Irish rock-and-roll-type performance." Smith rented space in the Ferguson Center and spent the next year writing music, coming up with choreography and other aspects of the show's concept.
In 2014 "Rockin' Road to Dublin" officially opened, and the duo has since brought on Broadway director Jeff Whiting, along with upgraded lighting and costumes. The production recently set out on a national tour with performances across the nation.
A Christopher Newport affair, "Rockin' Road to Dublin" features the talents of additional Captains for Life. Michael Moore '07 plays percussion in the show, and Caitlin Simmons '14 serves as wardrobe supervisor.
As Smith realizes the grand scope of his dreams since attending CNU, pride for his alma mater takes center stage. "Christopher Newport helped prepare and propel me into the real world. All the great accomplishments stem from what I learned," he says. "I love CNU, I am proud to be a Captain, and I will always pass the word on. I want everyone to have the opportunity to enjoy all the great experiences I've had due to attending such a wonderful school."
---