Read time:
---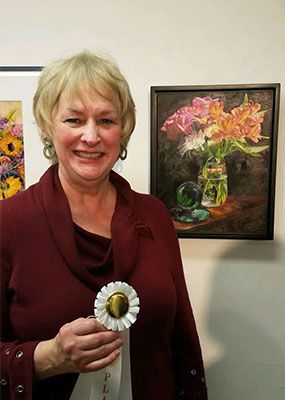 Senior art major Rhonda Hughes has won recognition from the Hampton Arts League for her oil painting "The Witch is Home." She earned a cash prize and the inclusion of her painting in a public exhibition with the other winners at the Charles H. Taylor Arts Center in Hampton, Virginia.
Hughes, a 1968 graduate of Ferguson High School in Newport News, enrolled at Christopher Newport in January of 2016. "Art has been a passion of mine since I was a child," she says. "Between raising my family and growing my career, I had little time to pursue my dream until recently."
Until 2014, Hughes was the chief financial officer at a mechanical contracting corporation based in Baltimore. "I took the opportunity to return 'home' to Newport News to be close to my family afterwards," she explains. "I have always been interested in art and especially painting. I decided I wanted to take my interest from being a hobby to something more, so I decided to return to school and get my degree in fine art."
Given that her old high school is now part of CNU's campus, Hughes began to plan in earnest to complete her education at Christopher Newport. "Not only was this the location of my old high school, but after talking to some of the members of the LifeLong Leaning Society, who had very favorable opinions, I knew I wanted to attend CNU."
Hughes will graduate in May 2018 with a BA in fine arts along with a minor in museum studies. More of her work will be on display at the Peninsula Fine Arts Center's Genesis Senior Exhibition on April 6, and at the Paideia exhibition in the CNU Falk Gallery on April 14.
---