Read time:
---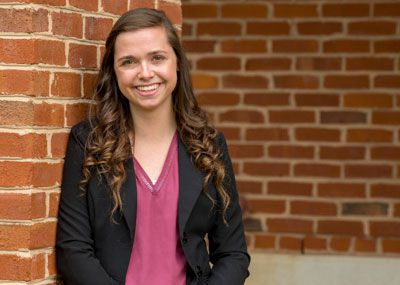 The National Association of Social Workers (NASW) Virginia chapter has awarded Christopher Newport senior Marianna Ferguson the 2018 Bachelor's in Social Work Student of the Year Award. Ferguson earned the award thanks to her outstanding academic work, leadership qualities and accomplishments in her field work.
Ferguson majors in social work and minors in leadership studies and sociology, and is in the President's Leadership Program. She works with the Communities in Schools organization in Hampton Roads to help students in grades K-12 with disabilities or trauma, and those who live in poverty or who have experienced discrimination in their school setting. Through her work, Ferguson has introduced a variety of new approaches to learning and coping with mental health in an academic environment. "It has been incredibly rewarding to watch students progress in their studies and grow personally throughout the year," she says. "I'm always especially excited to see students developing a belief in themselves and in their futures."
Ferguson has also conducted research that uses data she collected to analyze the effects of collegiate stress on mental health. She will present her work, "Mental Health Needs Among Students at a Small, Public Liberal Arts University," with her faculty adviser, Dr. Diane Griffiths, lecturer in the Department of Sociology, Social Work and Anthropology, at the annual Association of Baccalaureate Social Work Directors Conference in Atlanta. "Throughout this process I have been humbled by just how supportive the community has been with this endeavor and have found great hope in the campus-wide desire to increase our commitment to mental health and wellness," says Ferguson.
After graduation Ferguson plans to pursue a master of social work degree at the University of Denver. "I hope to make social work a lifelong career, and I am specifically interested in serving at-risk youth," she says.
NASW is the largest membership organization of professional social workers in the world with 145,000 members. NASW works to enhance the professional growth and development of its members, create and maintain professional standards and to advance sound social policies.
---