Read time:
---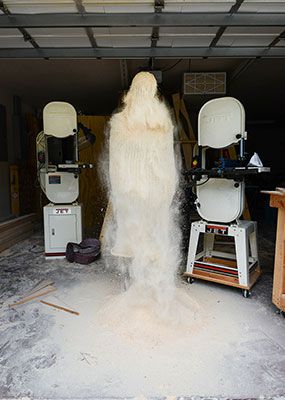 Studio art lecturer Kristin Skees' has opened a solo exhibition at Galleri Urbane in Dallas. The show, titled "Close-Knit," features work from her ongoing Cozy Portrait series. "This is my first show with Galleri Urbane Marfa+Dallas," she says. "It is a great opportunity to introduce my work to the community of art collectors in Dallas. I was honored to be invited and represented by this prestigious contemporary art gallery."
In the tableaux-style photography series, the subjects' facial features and expressions are obscured by knitted cozies that Skees makes. "Reminiscent of an ill-fitting handmade sweater, the cozy represents the fine line between comfort and constriction," she says. "Though each one of the portraits is specific to the subject, one of the common threads explored across many of the portraits is the way we construct our identities through our home and the objects we choose to place in our private spaces," she says. More information about the exhibition is available at the link below.
Skees teaches digital photography and video art and works in a variety of media. She has shown her work nationally and abroad, and her photographs are found in many private and public collections. She earned an MFA from the University of Arizona.
---