Read time:
---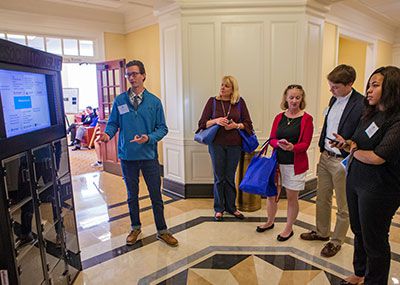 Imagine a machine that can interact directly with you, in real time, through your phone. Three Christopher Newport students came together to build just that – a social machine that can bridge the gap between online and interpersonal communication.
When senior marketing major Caleb Tupper was searching for an undergraduate research opportunity, Dr. Matthew Hettche, chair of the Department of Marketing and Management in the Luter School of Business, had the perfect idea: a "social locker" that he has been trying to develop for several months.
"I instantly fell in love with it. I like technology, I like computers. And it's very new, it's very relevant," Tupper says. Shortly after deciding to start the project Tupper and Hettche partnered with the Department of Physics, Computer Science and Engineering to find someone to help with the internal function of the machine. That's when Connor Rooney, a junior computer engineering major, joined the team. "I created the back end of the program that controlled the locker's functionality while Caleb worked on the front-end website. I also wired all the electronics and lead the construction of the physical locker," says Rooney.
The building process took about seven weeks. Tupper explains: "We are able to reward users based on their interactions. So, say they fill out a survey, get a certain score, we'll have a program running on the machine's processor that will give them a little light show. A door will pop open and they can get a prize - it's used for creating brand awareness and brand recognition."
The undergraduate research provided a groundbreaking marketing product, but also an eye-opening experience for these students. "Research is building something, throwing it out in the world, and observing how people interact with it," says Tupper.
---