Read time:
---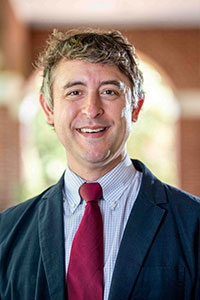 Dr. Brent Cusher, associate professor in the Department of Leadership and American Studies, is the co-editor of Leadership and the Unmasking Authenticity: The Philosophy of Self-Knowledge and Deception, along with Dr. Mark Menaldo of Texas A&M University.
The book explores the definition and significance of authenticity and related themes in the history of philosophy, from Rousseau, Nietzsche and Heidegger and back to Plato, Machiavelli, Bacon and Locke. The International Leadership Association identifies the work as one of "today's most intriguing leadership books."
"Our intention with this book is to contribute to the literature on authentic leadership theory, which tends to dominate discussions of leadership nowadays," says Cusher. "This theory states generally that leaders operate best by being authentic, honest, and genuine – and that one essential goal of leadership is to help followers to achieve these states of being for themselves. Mark and I think this book will make an impact in leadership studies by casting light on the nuances of this central concept of authentic leadership theory."
Cusher teaches a variety of courses on leadership through the lenses of history, moral philosophy and political philosophy. He holds a PhD from the University of Toronto.
---