Read time:
---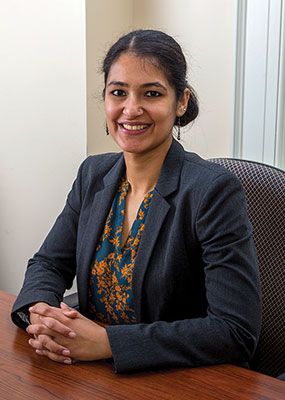 The Reiff Center for Human Rights and Conflict resolution has welcomed a new director, Dr. Suparna Chaudhry. Named in honor of Dr. Theodore R. Reiff, a retired physician, medical educator, researcher and founding president of the Genocide Education Project, Christopher Newport's Reiff Center raises awareness concerning the horrors genocide, human-rights violations and conflict.
A native of India, Chaudhry also serves the Department of Political Science as an assistant professor and earned her PhD in political science at Yale University. She was previously a post-doctoral fellow in U.S. foreign policy and international security at the John Sloan Dickey Center for International Understanding at Dartmouth College.
"I am broadly interested in issues related to human rights and conflict," she says. "My research is on state repression of civil society – when governments start feeling threatened by civil society groups, what tactics they use to crack down on these groups and how governments learn these authoritarian tactics from one another."
Equally passionate about teaching and research, Chaudhry enjoys having a role that bridges academia and policy, and she appreciates CNU's proximity to the nation's capital. "Being part of a center that's more public facing and being close to Washington, D.C., are ideal for communicating your research – not just to the public, but also to the policymakers," she says.
As director, Chaudhry will implement a threefold mission. First, the Center will organize conferences and public events addressing international concerns. Last semester, for example, the Center held panel discussions on such timely topics as ISIS and the Israeli-Palestinian conflict.
Second, the Reiff Center will organize professional development workshops for students interested in careers within human rights and social justice. For these, invited leaders will share personal stories while detailing those skills and experiences essential to the field. Events will also highlight related vocational paths - everything from law and journalism to policymaking.
The third objective entails establishing the Reiff Center as a data hub for national policymakers, which will require IT-focused interns who can translate data into an easily accessible form. Current interns assist with events, social media and research. They also visit area high schools to dialogue with students. "We held one event at Smithfield High School where we talked about the protests in Charlottesville and how students view violent and nonviolent protests. It seemed timely," says Chaudhry, who envisions the Center at the forefront of discussions regarding global challenges.
Equally busy in the classroom, Chaudhry taught two sections on international human rights this past fall, calling them some of the best classes she's ever instructed. "It helps that CNU has a human rights and conflict resolution minor. Obviously those signing up are interested in the subject matter," she explains. "I've been pleasantly surprised by the level of discussion and engagement. Even if people have differing opinions, they're willing to talk through it, which is the most important thing."
---