Read time:
---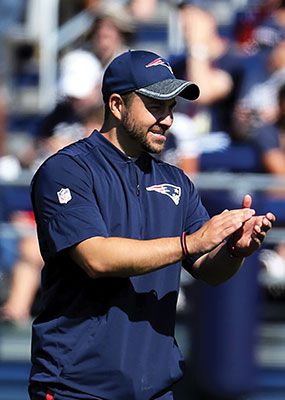 For James Hardy '03, the path to joining the staff of the New England Patriots began not on the playing field, but in the classroom. "I didn't play any sports at CNU," he explains. "The football program was relatively new when I arrived on campus, and it wasn't until after I graduated that I had the opportunity to get involved with the athletic programs."
As he established himself academically on campus, Hardy built strong connections with fellow Captains. "I was fortunate while I was there to be in the President's Leadership Program, which instilled character traits that have helped me in my career today," he says. I had many great professors and developed outstanding friendships."
Dr. Jonathan Backens '04, an assistant professor of physics, computer science and engineering at Christopher Newport, roomed with Hardy and recalls a motivated peer destined for success. "James was smart, driven and had such a positive attitude toward life that was contagious," Backens says. "He was always good for a laugh and had a laid-back charisma that made him a natural leader."
Graduating with a bachelor's degree in exercise science and a minor in leadership studies, Hardy eventually made his way back to campus, working for Jon Dean, the Captains' strength and conditioning coordinator. After a year on staff, Hardy then enrolled at Auburn University, earning a master of education degree in exercise science while spending two years as a graduate assistant with the strength and conditioning program there.
"It wasn't until being hired at the University of Colorado in 2007 that things really began to change," he says. "I developed a close relationship with Moses Cabrera, who was their head conditioning coach at the time." Cabrera eventually became head conditioning coach for the Patriots in 2016 and offered Hardy the chance to join the team's staff. Hardy now serves as the team's assistant strength and conditioning coach.
"There is a lot to live up to at this level," he says. "There is a lot of stress and scrutiny that accompanies your work at this stage, and you have to be convicted in your beliefs while trusting that everything you've learned has prepared you for this level. It's an honor to work for an organization that has enjoyed as much success as the Patriots, and it is not something I take lightly or for granted."
Each day Hardy strives to help players excel on the field, putting them through strength training, cardio work and other
exercises to reach peak athletic performance. "At the end of the day you try your best to develop a professional relationship with these guys," he explains. "You realize their job is no different than yours. This is how they feed their families, and you owe it to them to do your best for every player."
And while Hardy savors his role with one of the league's standout organizations, he always remembers the education and experience that made it possible. "From Christopher Newport to my current position, I've followed my gut and have tried to show respect to everyone I've worked with," he says. "I feel blessed that the people I've crossed paths with during my journey have believed in me and given me the chance to grow in each new role."
---