Read time:
---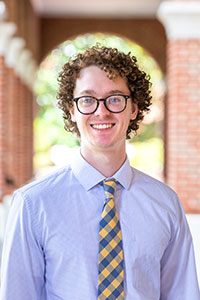 Mitchell Kerver '17 is one of four winners of a Thomas Jefferson National Accelerator Facility Electron-Ion Collider (EIC) Fellowship. Jefferson Lab is a U.S. Department of Energy Office of Science national laboratory. During the one-year fellowship, Kerver will support the efforts of scientists to advance the theory, design and computing environment of an EIC.
Kerver's project will specifically focus on the unique information that an EIC can provide on a three-dimensional re-creation of the structure of atoms. "The development of an EIC is critical for physicists to further our understanding of the building blocks of atomic nuclei and all matter around us," Kerver explains. "By committing to this project, we can stimulate local research and development for related technologies and sciences."
Dr. Edward Brash, a physics professor at CNU and a staff scientist at Jefferson Lab, helped lead Kerver to opportunities at the lab. "Mitch became involved in our research program at Jefferson Lab very early on in his time at CNU," Brash says. "We recruited him as a sophomore based on his excellent performances in the classroom and we were able to offer him an internship working at Jefferson Lab the following summer."
Kerver also accompanied Brash on a study abroad trip to work with the nuclear physics research group at the University of Glasgow. After completing another internship in Geneva, and finishing his Jefferson Lab capstone project, Kerver graduated from CNU and began graduate studies at Old Dominion University. "Mitchell's story is a shining example of the intellectual and experiential growth that comes from being involved in undergraduate research at Christopher Newport," says Brash.
Moving forward, Kerver hopes his experiences at CNU will help him stand out as a rising scientist. "As I continue my PhD research, I am completely ready to immerse myself in it," he says. "With the help of Dr. Brash and the internships I've had the opportunity to complete, I feel like I possess all the technical skills I need to succeed. I am excited to begin this fellowship and continue my research at Jefferson Lab's EIC Center."
---