Read time:
---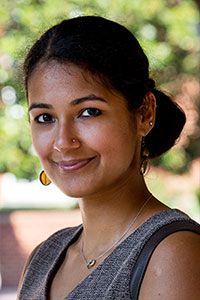 The American Political Science Association has recognized Dr. Suparna Chaudhry with its Best Dissertation Award in Human Rights. Chaudhry is assistant professor of political science, and the director of the Reiff Center for Human Rights and Conflict Resolution at Christopher Newport.
Chaudhry's dissertation examines why governments feel threatened by nongovernmental organizations (NGOs) and why they sometimes violently attack NGOs and activists, and when they instead choose nonviolent forms of crackdown, such as legislation targeting funding, operations and advocacy activities.
According to Chaudhry, if NGOs aren't allowed to operate in a country unhindered, not only will they be unable to effectively implement their own mission, but they are also limited in their ability to achieve the intended goals of foreign aid actors such as the USAID, or of international organizations, such as the UN, who channel a large amount of funds through NGOs every year. "More troubling, it shows that government crackdown methods are evolving," she says. "Instead of using violence, governments are progressively turning toward nonviolent forms of crackdown, which are less likely to invite condemnation and criminal liability, and actually more effective than the use of violence in some cases."
Chaudhry teaches a variety of courses in international relations and politics and is an expert in human rights, NGOs, foreign aid and political violence. She earned her PhD from Yale University.
The Reiff Center is dedicated to raising awareness of the horrors of genocide, human rights violations and conflict, and to studying ways to overcome these by examining the international and national application of human rights, conflict resolution and peace studies.
---