Read time:
---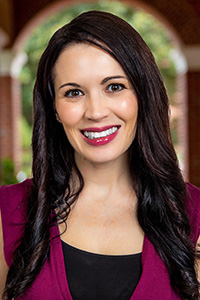 Rather than spending her summer at the beach, Dr. Michelle Lange was hard at work launching a nonprofit organization. The new venture, named Pay it For Her, is an anonymous crowdfunding platform that allows people to make donations that are then disbursed to women who are struggling or in distressing situations like an abusive relationship.
There are two ways users can support the endeavor, the Small Kindnesses Fund and the Emergency Fund. Users can specify which tier they want to either donate to or request money from.
"The emergency fund can make a big difference," says Lange, who is a lecturer in the Department of Psychology. "When women are dealing with abusive or life-threatening situations, this fund can pay for a month's rent or a legal consultation for someone who needs to protect their children. By providing this service, we allow women to rescue themselves without resorting to a public crowdfunding project, which their abusers may discover and confront them about."
The Small Kindnesses tier offers lower-priced items meant to provide encouragement. "These are for women who just need a little boost," Lange says. "It's designed to help keep them afloat, and give them a push of momentum when they're just getting exhausted with personal challenges." Those who choose donations from this fund may receive a handmade greeting card, flowers, gift cards and other comforts.
A clinical psychologist by training, Lange studied how to start a business to help her navigate the unfamiliar process of creating a nonprofit. Through the help of colleagues and friends, she was able to get the project off the ground. "I reached out to many different people who know more than me about digital marketing, or website creation or the IRS certification process," she says. "They helped to point me to the right resources and make the right decisions."
The central challenge was how to establish a way to process and disburse gifts more anonymously and securely than standard crowdfunding sites. "There are many women who are unable to create a public crowdfunding site for fear of abuse or retribution, and others who are in a situation where they don't have easy access to computers or the Internet," says Lange. "I hope that, by making this site more well known, women can access it on a friend's phone or a library computer. The key to Pay it For Her is easy access to support and the ability to respond in a timely manner."
For Lange, this project is the combination of her career and personal life experiences. "I'm a clinical psychologist with experience in this area, but I had been paying close attention to the #MeToo movement," she explains. "So many women have either gone through harassment, sexual assault and physical abuse, or know a woman who has. They're still expected to live their lives normally and show up for work as if nothing happened."
As the organization grows, Lange is hopeful both of Pay it For Her's funds will increase. "I'd really love to see the Emergency Fund allow women to have legal consultations and access to critical support services," she says. "My ultimate goal is to eliminate all the red tape that comes with needing expensive assistance. So many women are forced to delay in saving themselves from abusive situations because they are unable to go through a background check or meet certain qualifications at the time."
Yet, Lange says, the Small Kindnesses Fund is the hallmark of Pay It For Her. She hopes the nonprofit will connect donors and those in need who mutually appreciate the power of gestures of support in encouraging hope for healing and happiness. She says, "I want to let suffering women know that there is still light in this often troubling world."
---