Read time:
---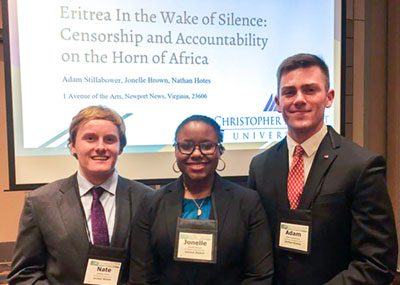 A team of Christopher Newport students won first place in the 2018 International Leadership Association (ILA) Global Conference case study competition, defeating teams from across the nation. The ILA is the largest worldwide community committed to leadership scholarship, development and practice.
The winning team of leadership studies students, junior Spanish major Jonelle Brown, sophomore computer science major Adam Stillabower and sophomore political science/American studies double major Nathan Hotes, traveled with CNU faculty to the conference in Florida, where they successfully defended their work in front of a panel of ILA judges, many of whom are nationally known leadership scholars.
CNU participates in the competition each year, where student teams select a significant contemporary social problem, research and study it, and then develop an argument about how leadership theories and actions can be used to address it.
"This experience was so enriching, from the seminars to the networking," Brown says. "I hope to take this experience and my leadership education and apply them to my future career as an educator and my everyday life. I am extremely grateful to the faculty and staff for supporting us along the way, and I am proud of each team that worked hard in this competition."
In order to win the competition, students must first defend their papers in front of the ILA judges. The teams that move on to the final round must incorporate what they have learned at the conference and then present again for final judging.
"Presenting research at a major academic conference is one of the richest academic experiences our students can have outside the classroom," says Dr. Brent Cusher, associate professor of leadership studies, who accompanied the students on the trip. "They develop skills as thinkers and speakers responsible for articulating their thoughts in a coherent, persuasive way."
The first-place CNU team received one-year ILA memberships and a $1,000 cash prize.
---