Read time:
---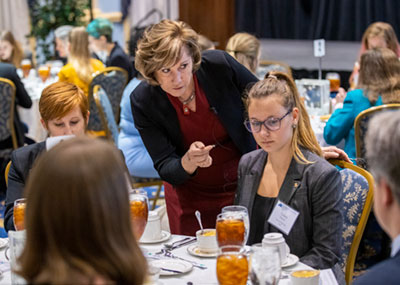 Christopher Newport's Department of Physics, Computer Science and Engineering (PCSE) recently hosted the Women in STEM Professional Etiquette Dinner on campus. Over 70 female CNU students, faculty, staff from Newport News Shipbuilding and guests attended.
The instructional, yet entertaining hands-on dining experience is part of an ongoing PCSE initiative to inspire and to empower young women in engineering and science. It was facilitated by Lynne and John Breil of The Professional Edge and generously sponsored by Newport News Shipbuilding.
"The etiquette dinner is a great opportunity to polish our interview skills in a comfortable environment so we can showcase our best selves," said senior environmental biology major Jane Oswalt.
Newport News Shipbuilding is committed to fostering a diverse work environment through networking and teaming, promoting positive performance and employee growth. "It was a great event – I learned a few things I didn't know," says Susanne Leonard, refueling and complex overhaul planning ship design manager at Newport News Shipbuilding. "Every student should get an opportunity to understand these rules of the road."
"Etiquette is not only important for impressing a recruiter or a potential stakeholder, but also for learning about traditions and respecting one another," says Mary Beth Wusk, deputy director at NASA Langley Research Center and professional mentor for female students. "I'm confident that each participant left more prepared to establish a professional presence for any situation."
"Obviously not all skills one needs to be successful in life can be taught in the classroom," says Dr. Anton Riedl, PCSE chair. "While dining etiquette and professional networking at a dinner table can be discussed theoretically, it is much more instructional to actually practice this in a no-pressure environment and under the guidance of such excellent facilitators. We are grateful to Newport News Shipbuilding for making this event possible and we hope it provided another opportunity for our young women in engineering and science to prepare themselves for a successful career in the STEM disciplines."
---