Read time:
---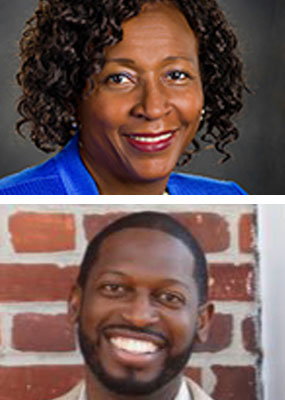 Christopher Newport students, faculty and staff will commemorate Martin Luther King Jr. Day with a major university event and a student-organized procession to the Pope Chapel.
At 3 p.m. on Monday, January 21, Edith G. White will keynote a program in Gaines Theatre in the Freeman Center. The title of her talk is "Moving with Vision, Courage and Compassion at this Critical Hour." A Newport News native, White is CEO of Hampton Roads Community Action Program and past president/CEO of the Urban League of Hampton Roads Inc. Her numerous community honors include the United Way's Community Achievement Award, the National Urban League's Women of Power Award and the Virginia Center for Inclusive Communities Humanitarian Award. White also serves as host and producer of "Building a Better Life With Edith White," a weekly radio broadcast on WHOV 88.1 FM.
At the conclusion of her remarks, students will lead a procession from the Freeman Center to Pope Chapel for a program titled "MLK: A Spiritual Reflection." It will be led by Dr. Willard Maxwell Jr., senior pastor of New Beech Grove Baptist Church. Maxwell is president of the Newport News NAACP and holds leadership roles in several other Hampton Roads organizations. He is also an entrepreneur, musician and Christian comedian. He will speak about King's faith and how it guided his activities to advance civil rights.
Also on MLK Day, the President's Leadership Program is sponsoring a drive to collect food for the Virginia Peninsula Foodbank. It is part of a large, regional effort directed by political and government leaders, including Newport News Sheriff Gabe Morgan, a member of Christopher Newport's Board of Visitors. Food can be dropped off at a box outside the Office of Student Affairs on the third floor of the David Student Union (DSU). A box will also be located adjacent to the Gaines Theatre for those attending Monday's program.
The Black Student Union will hold an informal educational event in the DSU from 11 a.m. to 2 p.m. on the 21st.
Tuesday, January 22 will mark the beginning of the 21-Day Racial Equity Challenge and a new event, an oratorical contest, will be held Thursday, January 24, in the DSU Ballroom beginning at 7 p.m. Speakers will compete for a $200 prize. They'll be asked to expound on one of King's familiar quotes. Faculty will pick the winners and the audience will have the opportunity to award a $50 honorable mention prize. Information on these events is available through the Office of Student Affairs.
Additionally, Christopher Newport President Paul Trible, who as a U.S. senator in 1983 voted to establish MLK Day as a federal holiday despite opposition, has already begun the planning process for marking MLK Day in 2020. It could include the pausing of classes for several hours for events such as music and spoken word performances, lectures and discussions.
---