Read time:
---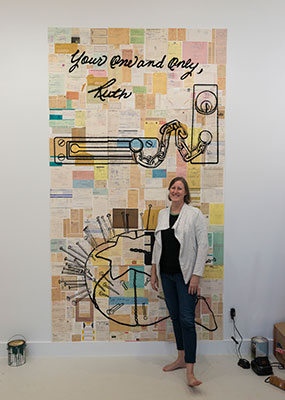 Christi Harris, professor and chair of the Department of Fine Art and Art History will show her work in a new exhibition title "Paper Marriage" in the main gallery at Rawls Museum Arts in Courtland, Virginia.
For the series, Harris created six monumental mixed media collage pieces (120 inches high and 66 inches wide) using her mother's tax receipts from 1962-74 as the background for the imagery. The works reflect on marriage, relationships and time. "The imagery reflects upon my father's absence from my life, my mother's marriage to him and my experience with divorce," says Harris.
The imagery was created with stitching and yarn, in a simplified fashion to accentuate the tax receipts. Each object depicted is at an unusual scale, which makes the ordinary objects seem unfamiliar – for instance, a three-foot wide telephone receiver. "I selected this medium because I wanted to show the traditional woman's work in creating a home and raising a family – it is time-consuming labor," Harris says.
"It was an honor to be selected for a solo exhibition, and I created the work specifically for the large, open room where it will be exhibited," Harris says. "The non-traditional material posed special challenges, as did my small workspace. Seeing them all up together for the first time will be very exciting."
The show opens with a reception on January 25, from 6-8 p.m. Click the link below for more information.
---