Read time:
---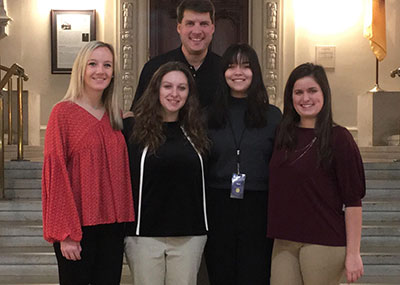 From seeing military leaders in action to learning more about their own leadership potential, four Christopher Newport students brought home lasting lessons from the U.S. Naval Academy Leadership Conference.
The students, accompanied by Dr. Sean Heuvel, attended the four-day conference in Annapolis, Maryland in January. They met students from many other universities and heard from prominent speakers such as former New York City Mayor Michael Bloomberg and retired General Peter Pace, former chairman of the Joint Chiefs of Staff.
What the CNU students remember most, though, are the interactions that happened away from the meeting rooms. "The conference was quite inspiring to me," says Mara Scally, a junior environmental studies major. "I had heard the words 'duty,' 'Accountability,' 'Honor' and 'Determination' before but hadn't experienced what it means to uphold those words every single day. From my encounters with the students and faculty at the academy, I was able to see those words put into action."
Scally was especially impressed by the midshipmen she met at a lunch in the academy dining hall. "The students were all unique in their own way with different perspectives and stories, but they clearly shared respect for each other despite their differences," she says. "I was grateful I was able to see this firsthand."
The CNU contingent participated in a series of seminars and workshops on topics such as "Leading from Within" and "Leading Beyond Self" that built on the conference theme: "Inside Out Leadership – Knowing Yourself First."
"This was an incredible experience because it reinforced topics we have learned throughout our time here at CNU with the leadership studies program," says senior Ellie Fink. "The speakers and panelists talked about their experiences as leaders and how they used these leadership theories in the real word."
Other students attending this year's conference included Mackenzie Regan and Nicole Suscello. The trip has become a tradition for leadership students and faculty at CNU. "The students have an incredible experience, both in seeing the Naval Academy up close and in contemplating the meaning of leadership in a context very different than CNU," says Heuvel.
The academy has hosted the conference since 1984, initially opening it only to the service academies and then, in 2002, expanding it to include students from civilian universities.
Scally says, "I learned more about myself and my own leadership goals and skills on this trip but I am most grateful that I could meet others who are, in many different ways, fostering leadership."
---