Read time:
---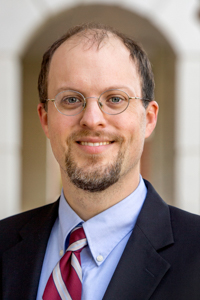 Jonathan W. White, associate professor of American studies, will receive the 2019 State Council of Higher Education for Virginia (SCHEV) Outstanding Faculty Award.
Dr. White is one of the nation's foremost experts on Abraham Lincoln's life and leadership, and is the author or editor of nine books and more than 100 articles, essays and reviews about the Civil War.
The Outstanding Faculty Award program is administered by SCHEV and funded by a grant from the Dominion Foundation. Since 1987, the awards have recognized faculty at Virginia's institutions of higher learning who exemplify the highest standards of teaching, scholarship and service.
Nominees are selected by the institutions, reviewed by a panel of peers and chosen by a committee of leaders from the public and private sectors. Dr. White is one of 13 recipients. Of the more than 5,000 faculty members at Virginia's universities, only 86 earned nominations for the award this year.
"Professor White is an extraordinary teacher, scholar and contributor to our community," says Christopher Newport President Paul S. Trible. "Whether he's in the classroom, working with our students in small groups or cheering on the Captains at a basketball game, Jon exemplifies the values that SCHEV honors and uplifts with its Outstanding Faculty Award."
Dr. White's most recent book is Our Little Monitor: The Greatest Invention of the Civil War (Kent State U. Press, 2018), co-authored with Anna Gibson Holloway. His earlier book, Emancipation, the Union Army, and the Reelection of Abraham Lincoln (LSU Press, 2014), was named a best book of 2014 by Civil War Monitor, was a finalist for both the Gilder-Lehrman Lincoln Prize and the Jefferson Davis Prize, and won the Abraham Lincoln Institute's 2015 book prize. Midnight in America: Darkness, Sleep, and Dreams during the Civil War (UNC Press, 2017) was named a best book of 2017 by Civil War Monitor. Later this year he will publish Untouched by the Conflict: The Civil War Letters of Singleton Ashenfelter, Dickinson College (Kent State), a collection of letters written by a college student during the Civil War that he edited with one of his students, Daniel Glenn.
Dr. White is a distinguished lecturer for the Organization of American Historians, and serves on the boards of directors of the Abraham Lincoln Institute, the Abraham Lincoln Association and the Lincoln Forum. He also serves on the Board of Advisors of the John L. Nau III Center for Civil War History at the University of Virginia, the Ford's Theatre Advisory Council and the editorial board of the Pennsylvania Magazine of History and Biography. In 2017, C-SPAN invited him to participate in its survey of presidential leadership.
The awards ceremony will take place during a March 7 luncheon at the Jefferson Hotel in Richmond.
---