Read time:
---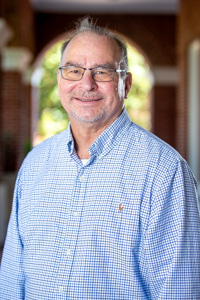 Dr. Mark Padilla, distinguished professor of classical studies, has published Classical Myth in Alfred Hitchcock's Wrong Man and Grace Kelly Films.
In the book, Padilla reviews six beloved Hitchcock films: "The 39 Steps," "Saboteur" and "North by Northwest," plus "Dial M for Murder," "Rear Window" and "To Catch a Thief." He reviews their production histories with an eye to classical influences, and then analyzes their links with Greek art, poetry and philosophy. Padilla's analysis allows readers to engage with the films, many of which remain fan favorites since their release between 1935 and 1959.
"This second book project on this topic was a true labor of love," says Padilla. "To complete the study, I studied the films closely, and conducted archive work at Yale University and at a film production archive in Los Angeles. The book's discoveries and discussions of 'the master of suspense' will provide movie enthusiasts, film scholars and classicists with a deeper understanding of one of the engines of Hitchcock's filmmaking creativity. All mythical references are explained, and the film plots are summarized."
Padilla earned his doctorate from Princeton University in comparative literature. He teaches Greek and Latin; Greek myth and literature; Greek society; classical reception in film; and honors courses on Alfred Hitchcock and Richard Wagner.
---