Read time:
---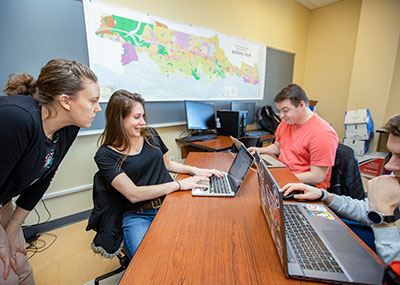 Does the way a city grows affect how quickly firefighters get to a blaze Can you reduce crime by changing how a neighborhood is zoned? How do you model a ship's piping system so engineers can easily test variations in flow?
Christopher Newport students are doing the mathematical research to answer those questions, but this is no academic exercise. What the students learn will help guide decision-making by the Newport News Fire Department and city manager's office, and by Newport News Shipbuilding.
Dr. Jessica Kelly, assistant professor of mathematics, directs the Preparation for Industrial Careers in the Mathematical Sciences (PIC Math) program through a grant from the Mathematical Association of America.
"This truly is a one-of-a-kind experience that will prepare the students for a career in industrial mathematics," Kelly says. "The problems posed to the students involve linear algebra, differential equations, statistics and programming. The students must rely on creative problem solving and critical-thinking skills in a cooperative environment to make progress."
The project with the fire department is a good example of how the research is carried out.
Students examine five years of data on the department's response time. They analyze the efficiency and effectiveness of the crews within the city as well as how they perform in individual neighborhoods. They also examine how response times and other factors have been affected by the addition of new developments in Newport News such as Tech Center.
The students make a final presentation to their community partners, but long after the research is concluded, the problem-solving and creative thinking skills they develop will help them answer all the questions to come in their careers.
PIC Math is a program of the Mathematical Association of America (MAA) and the Society for Industrial and Applied Mathematics (SIAM). Support is provided by the National Science Foundation (NSF grant DMS-1722275).
---