Read time:
---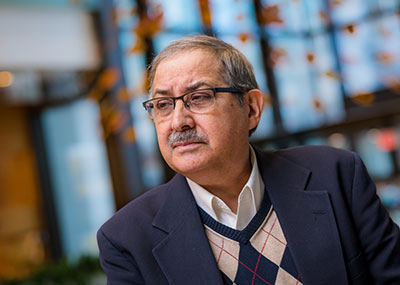 Dr. Richard Freund, a prominent archaeologist, historian and explorer, has been appointed to a new position at Christopher Newport where he will lead Judaic studies and build strong ties with the Jewish community throughout our country.
Freund has been named the inaugural holder of the Bertram and Gladys Aaron Endowed Professorship in Jewish Studies. He currently serves as director of the Maurice Greenberg Center for Judaic Studies and Greenberg Professor of Jewish History at the University of Hartford.
"This is a landmark day in the history of Christopher Newport University," said President Paul Trible. "Dr. Freund personifies what we expect of our students, that they lead, serve, engage and set the world on fire. He has done all of that with national and international impact. We are proud that Dr. Freund is joining us and grateful to Bert' and Gladys Aaron for their generosity in making this appointment possible."
"Richard Freund was precisely the type of teacher and scholar we had in mind when we established the professorship," said Bert' Aaron. "He will serve the university superbly and bring energy, insight and a spirit of engagement to the Jewish and other communities across the Hampton Roads."
Freund is perhaps best known for leading an international group of archaeologists, scientists and historians as they searched for the lost city of Atlantis, a sophisticated and extensive expedition captured by the National Geographic Channel's documentary "Atlantis Rising." Freund's team discovered six stone anchors in southern Spain that could date back to the Bronze Age.
Other highlights of his remarkable career of teaching, scholarship and service include:
Building an extensive Judaic studies program at the University of Hartford over two decades that included lectureships, concerts, study abroad archaeology programs and a Museum of Jewish Civilization.
Discovering a Holocaust escape tunnel featured on the public television documentary series "Nova," one of his 15 appearances in television documentaries.
Leading multiple archaeological projects in Israel and Europe and a research project at the extermination camp at Sobibor, Poland while pioneering the use of ground-penetrating radar to look for burial grounds.
Locating the exact burial site of Matilda Olkin who was executed by Nazi collaborators. Poetry by the young Jewish woman, often called the Anne Frank of Lithuania, described Nazis closing in on her village.
"I am honored by this appointment and eager to meet the students and join the faculty at Christopher Newport, one of the nation's finest and fastest rising public arts and sciences universities," Freund said. "My goal is to expand the reach of Judaic studies offerings within the university and the community at large. The Bertram and Gladys Aaron professorship is unique in that it calls me to provide outreach to the region's dynamic Jewish community while promoting a vibrant and active intellectual and Jewish religious and social life on campus."
Freund was renowned at the University of Hartford for involving students in every aspect of his research and explorations, a philosophy that dovetails with Christopher Newport's student-first focus. "When he went in search of Matilda Olkin's grave, five students and another faculty member went with him," said Christopher Newport Provost David Doughty. "Just think of the students, whether they're studying history, science, technology or archaeology, who are about to have life-changing experiences working alongside one of the nation's pre-eminent Jewish studies scholars."
Freund will serve in the Christopher Newport Department of Philosophy and Religion, joining a team of elite teacher-scholars committed to expanding the awareness of religious traditions and philosophies across the centuries and around the world. "We thought we would attract one of the top scholars in the field when we started the search for this position but the appointment of Dr. Freund even exceeds those expectations," said Dr. Lori Underwood, dean of the College of Arts and Humanities. "He will have an immediate impact in the classroom, in the community and with his research."
---