Read time:
---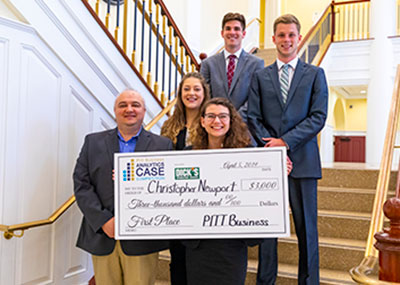 A team of four students from the Joseph W. Luter, III School of Business won first place at a business analytics case competition.
The students, Hannah Butler, Zachary Pedini, Sarah Holzknecht and Ian Dors, used data analysis to solve a pressing issue in the retail space industry at the annual Pitt Business Analytics Case Competition, offered in partnership with the Berg Center and DICK'S Sporting Goods.
Other universities sending teams to the competition included the host University of Pittsburgh, as well as the University of Virginia, Carnegie Mellon University and George Washington University.
"This is a tremendous accomplishment because of the hard work of our team, because of the quality of the competition and because it signifies that a Christopher Newport education at the Luter School puts our undergraduates on par with students from any university in the country," said Dr. Dmitriy Shaltayev, associate professor and adviser to the team.
As word spread of the triumph, other Luter faculty members were overjoyed. For example, from Dr. Lisa Spiller: "This is absolutely astonishing! Holy cow! Huge congratulations to Dmitriy and our awesome Luter Team!" From Dr. Niazur Rahim: "Wow!"
This is the second year that Christopher Newport has sent a team to the competition and last year's squad finished in second place. This year's team was given a data set on softball apparel sales in stores and asked to analyze the data and develop a recommendation for increasing sales in-store and online while improving the profit margin.
The Christopher Newport team was selected as one of three finalists in the first round of competition, along with George Washington and Carnegie Mellon. They then fine-tuned their analysis and presented the case to a second set of judges, emerging victorious.
"My congratulations to Hannah, Zachary, Sarah and Ian and to Dr. Shaltayev," said Luter School Dean George Ebbs. "We will go back next year as defending champions and we all like the sound of that."
---