Read time:
---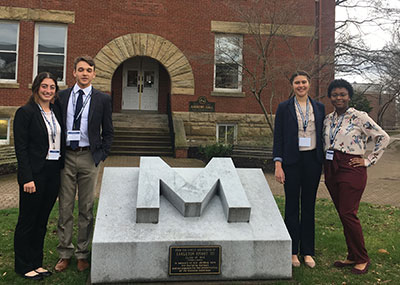 Four Christopher Newport University freshmen presented research at a national leadership conference, earning praise with their creative thinking about how leadership is defined and carried out.
The students joined about 300 other students from 25 colleges and universities at the McDonough Leadership Conference at Marietta College in Ohio. The four CNU freshmen included Bailee Comer, Adrianna DeSantis, Sydney King and Samuel Swenson-Reinhold. Leadership studies professors Brent Cusher and Sarah Chace led the delegation.
The annual conference is student-organized and showcases student presentations. This year's theme, "Leading Through Differences," tasked the students with demonstrating how leaders within organizations and across societies leverage diverse constituencies to unleash creativity and innovation.
Swenson-Reinhold presented research on "The Sixth Man" of leadership, using a basketball analogy to describe a new way of thinking about leadership. Comer discussed the relationship between former President Bill Clinton and his "shadow self" – the part of our personalities we don't want to admit having.
DeSantis demonstrated the impact of organizational behavior expert Simon Sinek's theory of the "Golden Circle" of leadership, and how answering the question of "why" that is at the center of that circle is a key test leaders must pass. Insight gained in a freshman class at CNU contributed to DeSantis' presentation as it did for King. She explained how the organizing principles of leadership studies relate to her work in the Newport News community with refugees.
"I am not exaggerating when I say that they were a hit," says Chace. "Everyone was particularly impressed with the fact that they were all in their first year of college."
In addition to discussing their research, the students attended speeches by a range of experts, including a talk by Steve Trainor, head of faculty development at the Google School for Leaders.
---