Read time:
---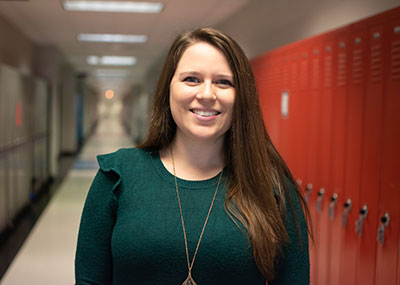 Mandy Rocamontes Poe ('11, '12) knew from the moment she stepped on Christopher Newport's campus that it was the place she wanted to pursue her teaching career.
The Virginia Beach native graduated with her bachelor's in Spanish and minor in leadership studies, and then again the following year with her master of arts in teaching. Seven years later, she has been named the York County School Division's Teacher of the Year, the top honor in the 13,000-student school district.
Poe has taught Spanish and various student readiness courses at Grafton Middle School since graduating, educating students across all three middle school grade levels. She and her husband Josh Poe ('11, '12) live in Virginia Beach and are expecting a future Captain in September.
She took time out of the busy end of the school year schedule to answer our questions.
How does it feel to be named York County's Teacher of the Year?
Mostly I just feel very humbled and thankful, just reflecting on the great honor that it has been to work with the kids. They just make my job so much easier and so worthwhile with their effort and their creativity. They really want to learn and explore and do well, so it doesn't make it feel like work for me. It's just a joy to be around them.
Getting named Teacher of the Year, it's still kind of surreal. It feels like I don't really deserve it. I'm just doing my best every day to try to serve them and help them. I think it just has really highlighted why I love teaching – it can be a thankless profession, and draining and difficult, but in the end it's really all about the kids. If I can have an impact on one of them, I feel like it's been worth it.
Why did you choose Christopher Newport?
I wanted to come to CNU because I was looking for a smaller school with kind of a close-knit feel, more of a family. And actually when I toured the first time, we ran into President Trible and he shook all our hands and asked our names. When I came my freshman year, I met him at the President's Leadership Program (PLP) banquet – he remembered my name. It just kind of highlighted I made the right choice, just a place I could be known and make an impact.
I majored in Spanish, with a minor in leadership studies, and I was in the Honors Program. All of that was really awesome and very helpful for teaching, especially leadership. That has served me well with the different styles, and all of that information has been really valuable. I loved studying Spanish there, I got really close with my professors and they actually mentored me my first year of teaching, helped answer questions, gave me resources. I was able to study abroad in Spain. That was really an awesome, life-changing experience.
How did your time at Christopher Newport make an impact on your career?
I think CNU really gave me great mentoring relationships with my professors. I don't think you would really have the opportunity to get at a large university on the same scale. I just feel like CNU gives its students a ton of opportunities to really try out new things and kind of test your skills and hone your skills.
PLP required an internship; I did mine in Nicaragua at an orphanage. That was my first experience working just with kids and it was all in Spanish – no one spoke English. That was what really solidified that I love teaching and I love Spanish. Those experiences I would not have gotten if they didn't push you out of comfort zone and provide support for those experiences.
There's an emphasis on service; I feel that was emphasized in my classes and in PLP. That is the biggest, most crucial part of teaching: it's not about you. It's about trying to live every day with that in mind.
---