Read time:
---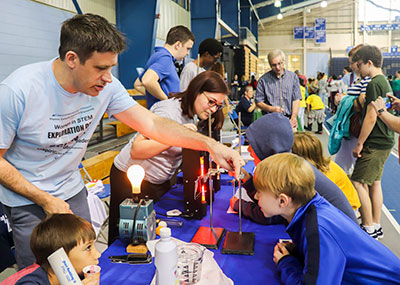 It's never too early to get interested in STEM. Christopher Newport, along with Newport News Public Schools, partnered to host the annual STEM Community Day on June 1 in the Freeman Center to help children and their families explore the world of science, technology, engineering and math in exciting, hands-on ways, much like Christopher Newport students do every day in the STEM fields.
"We help organize the event, participating by having tables on childhood studies and physics demonstrations," said Lynn Lambert, associate professor of computer science. "In addition, students help organize and volunteer for the day.
"It's just a massive display of how anyone in the community can connect with STEM. It's thrilling to host this unique and special day. Our goal is that anybody who wants to participate can participate."
Over 5,000 people came and enjoyed demonstrations and activities from over 100 exhibitors, and sponsors Verizon, Riverside Regional Medical Center and the crew of the U.S.S. Gerald R. Ford volunteered their time to show off how fun STEM can be.
There were robots built by local high school students, 3D printing, computer programming, emergency vehicles, dance, theater and more. Click the link below to learn more about Christopher Newport's STEM programs.
---