Read time:
---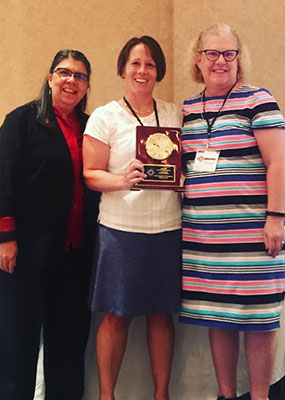 Christopher Newport University's minor in leadership studies – a program one of its faculty describes as "winged with hope" – was honored with the Outstanding Program Award from the Association of Leadership Educators.
It is a significant honor. Past recipients have included the University of Florida, University of Minnesota and Virginia Tech. Even more striking is that the Christopher Newport minor in leadership studies is only in its second decade.
"This is a substantial recognition from one of the top organizations in leadership studies," said Vice Provost Robert Colvin, one of the founders of the program. "We are pleased and humbled to see Christopher Newport held up by experts in the field as a beacon of light at a time when the next generation of leaders must solve increasingly urgent and complex challenges."
Lynn Shollen, chair of the Department of Leadership and American Studies, accepted the award at the Association of Leadership Educators annual conference. In the application Shollen prepared for the awards committee, she described the attributes of Christopher Newport's program, which enrolls 1,100 students:
Students earn 18 credits through four required core courses and two elective courses, all designed to help them understand the field of leadership studies and prepare them to be effective leaders and followers.
The foundational assumptions of all courses are that leadership happens in innumerable contexts and that a leader is not necessarily the occupant of a designated position of authority.
Students are also afforded a wealth of academic opportunities beyond the classroom that can include studying abroad and presenting and publishing research developed with faculty mentors.
Shollen said that data indicates the minor helps students get jobs and flourish in them. As one of the university's signature and defining programs, it also connects students to Christopher Newport's focus on civic engagement and prepares them to lead lives of significance. Based on survey results, graduates are highly satisfied with the minor and believe it helped them progress in their careers.
Led by 11 full-time faculty devoted to teaching only leadership studies courses, the minor also serves loftier goals. Professor Nathan Harter noted in the award application that he and his colleagues are "winged with hope" because teaching leadership is a worthy pursuit in a democracy that distributes leadership and demands participation at all levels. "We cannot know precisely what tomorrow brings," Harter wrote. "We have to equip the next generation with an array of knowledge, skills and abilities – and the adroitness to adapt."
Click the link below for more information on the minor in leadership studies.
---