Read time:
---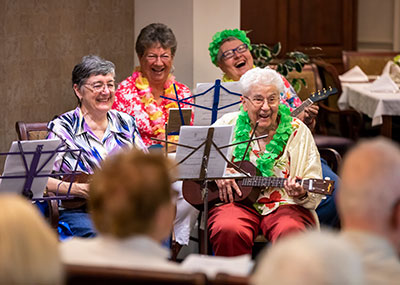 Donning festive Hawaiian shirts, leis and, for some, colorful ukuleles, a class of new musicians serenaded residents of The Arbors at Port Warwick retirement community.
Dubbed the "Ukulearners," 16 students enrolled in the latest offering of Christopher Newport's LifeLong Learning Society (LLS) played and sang four songs to several dozen residents – and added an encore, at the crowd's request.
The small, four-stringed guitars, native to Hawaii, provided an easy learning experience. One player joked that they sounded great in a crowd because that muffled the mistakes.
The crowd, however, heard no flaws during the concert. The Ukulearners played songs with a few repeated chords and choruses, such as "Amazing Grace" and "You Are My Sunshine." Residents nodded and sang along with the familiar melodies as the Ukulearners plucked and strummed.
Ninety-eight-year-old Catherine Dycus, herself a resident of The Arbors, is one of the LLS members who learned the instrument during a weeklong course this summer.
She asked her classmates to consider playing a concert for her neighbors, and they eagerly obliged.
"Oh, I've so enjoyed learning," said Dycus, the sole baritone ukulelist.
All were novices when the class, taught by instructor Mark Morgan, began. Morgan was himself a beginner when a friend gave him the instrument about a year and a half ago, and Morgan thought it would be a welcome addition to the lineup of courses offered by the LLS.
Enrollment quickly filled up to over 50, and the group continued to practice for weeks after class ended in June, Morgan said.
"You can't do this without smiling," he said. "This is the epitome of LifeLong Learning. You're learning something – and you're having fun."
Christopher Newport's LifeLong Learning Society is a membership organization for people of retirement age to learn in an environment of sharing and fellowship. To learn more, click the link below.
---