Read time:
---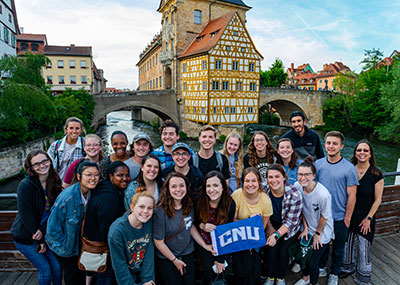 More Captains than ever before are expanding their horizons and choosing to study abroad through Christopher Newport's many options.
More than 400 students took courses in 40 countries across six continents, learning with Christopher Newport faculty or through exchanges with other institutions.
Immersing themselves in another culture is a life-changing experience for hundreds of students each year, said Mandi Pierce, director of study abroad.
"It's a way for them to truly step out of their comfort zone," she said. "If you go abroad, even if it's two weeks, you're having to buy food in a different language, possibly use a different currency, read a metro map, all these things that even if they've traveled before they now have to do on their own.
"It's not just that they're learning in a classroom. It's a 24-hour experience where they're always learning something."
The top destination was the CNU in Scotland program where students spend the spring semester in Glasgow and study alongside Scottish students and faculty. England, the Netherlands and France were also quite popular.
Majors ranging from neuroscience to marketing to music were represented.
Unique experiences in the past year included:
Two Captains participating in an ROTC program in Malawi, a small country in southeastern Africa
A student studying Russian language in Russia this summer
A biochemistry major who spent the entire school year in Busan and Seoul, South Korea studying general education and language
"We're kind of spreading our wings a bit more and seeing students take a little bit more risk in where they're going," Pierce said.
Participation – making up 36 percent of the Class of 2019 – has bested the office's own goal, with more growth to come.
This academic year will see the additions of a semester program at the University of the West Indies in Barbados; a strategic management program in Italy; English and writing in Vietnam; religion and archeology in Lithuania; and coursework on King Arthur in England and Wales, among others.
---