Read time:
---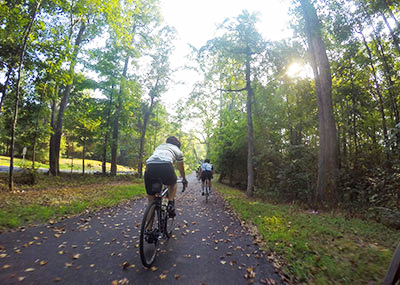 The Judy Ford Wason Center for Public Policy has received a grant from the Hampton Roads Transportation Planning Organization to conduct research on the economic impact of the Virginia Capital Trail.
The paved multi-use trail stretches 52 miles from Jamestown to Richmond, connecting historic sites, scenery, parks, restaurants and more.
Student researchers in the Wason Center will collect 400 survey responses from bikers, runners, walkers, skateboarders, dog walkers and other visitors using the Jamestown section of the trail.
"The Williamsburg area is famous for colonial tourism and Busch Gardens as the primary draws for vacationers, but the Virginia Capital Trail is also quite a draw," said Dr. Rachel Bitecofer, assistant director of the Wason Center. "This project is meant to determine how much additional tourism the trail is pulling in for the area."
Students will gather data about users from outside the Hampton Roads region, asking about time and money spent while using the trail. Their work will begin in September.
The Hampton Roads Transportation Planning Organization is an intergovernmental organization with an interest in all forms of local transportation from trains to ferries to bikes. Data collected by the survey will help facilitate its work.
---