Read time:
---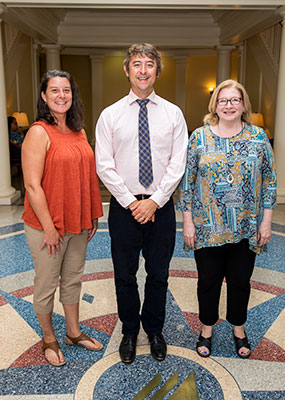 Four Christopher Newport professors received 2019 Faculty Excellence Awards, including a new recognition for work across disciplines.
The eighth annual awards recognize exceptional achievements in teaching, scholarship, service and thinking beyond academic boundaries. A rigorous application process, including a dean's review and ranking by the Faculty Senate, determines the winners. Each receives a certificate and a monetary award.
"Given that Christopher Newport faculty already set the performance bar so high, the accomplishments of these award winners are truly outstanding," said Provost Dr. Dave Doughty.
This year's winners:
Professor Denise Gillman, Faculty Excellence Award in Interdisciplinarity. Gillman, of the Department of Theater and Dance, is known for merging the fields of theater and science, directing several plays and programming the Science Play Festival at Christopher Newport. She has also developed interdisciplinary courses in theater honors and written essays on the subject.
Dr. Brent Cusher, Faculty Excellence Award for Teaching. Over the past several years, Cusher, of the Department of Leadership and American Studies, has a lengthy list of accomplishments. He received a $200,000 grant from the National Endowment for the Humanities to develop a leadership elective course, created three Honors seminars and taught all courses in the leadership minor, while mentoring students outside of the classroom.
Dr. Mark Padilla, Faculty Excellence Award in Scholarship. Padilla, of the Department of Modern and Classical Languages and Literatures, has been a prolific scholar and author over the past three years. He published two single-authored monographs on classical mythology in Alfred Hitchcock's films as well as essays on the subject. He also presented many scholarly papers at conferences in Virginia and before international groups.
Dr. Linda Waldron, Faculty Excellence Award for Service. Waldron, of the Department of Sociology, Anthropology and Social Work, is faculty director of academic success and director of the Center for Education Research and Policy. She has served on numerous boards and committees, yet still finds time to coach soccer and volunteer at the Helping Hands Food Pantry.
---