Read time:
---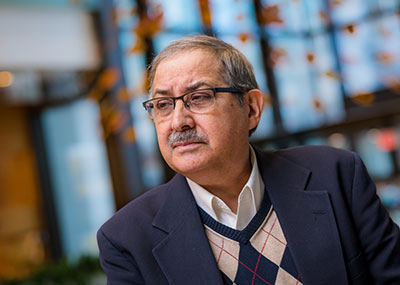 Leading American and international scholars will offer insight about the Dead Sea Scrolls at Christopher Newport on September 3 during a groundbreaking discussion about the next frontier of research into the important Jewish religious manuscripts.
"Rediscovering the Dead Sea Scrolls," presented by Christopher Newport with the support from the United Jewish Community of the Virginia Peninsula, will celebrate the establishment of the Bertram and Gladys Aaron Endowed Chair in Jewish Studies and the appointment of renowned archaeologist Dr. Richard Freund to the position.
"It is all about the 're-' in 'rediscovering' the Dead Sea Scrolls," said Freund, who will open the symposium. "The Dead Sea Scrolls are, simply put, the single greatest archaeological discovery of all time, and after more than 70 years we all realize that we are just at the beginning of a new frontier in Dead Sea Scrolls research."
Dr. Adolfo Roitman, curator of the Shrine of the Book, home of the Dead Sea Scrolls collection at the Israel Museum in Jerusalem, will deliver the keynote address in the evening. The day will include remarks and discussions about how old caves may yield new secrets, how new caves may uncover new texts, and the new information and interpretations that may be found within the old texts.
"It is so valuable for Christopher Newport to host this event," said Dr. Lori Underwood, dean of the College of Arts and Humanities. "Dr. Freund, Dr. Roitman and others will be sharing knowledge of the Dead Sea Scrolls, gleaned through years of dedicated work. That is the perfect way to honor what Bert' and Gladys Aaron have done in their remarkable lives and to celebrate the establishment of their endowed professorship in Jewish studies."
Freund is renowned for leading an international group of archaeologists, scientists and historians as they searched for the lost city of Atlantis, as captured by the National Geographic Channel's documentary "Atlantis Rising." He also discovered a Holocaust escape tunnel featured on the public television documentary series "Nova" and located the exact burial site of Matilda Olkin, a young Jewish woman often called the Anne Frank of Lithuania, among other discoveries.
All events will be held in the David Student Union. Tickets are required for evening discussions. For more information, click the link below or contact the College of Arts and Humanities at (757) 594-7052 or phil@cnu.edu.
---