Read time:
---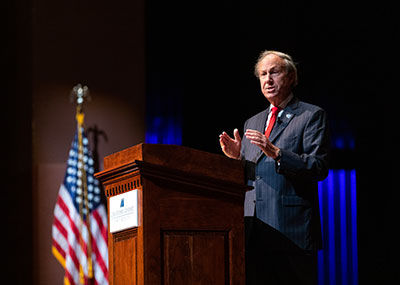 President Trible introduced the Inspiring Leadership initiative on September 18, 2019 in a speech to the University's faculty and staff. That date is the 58th anniversary of the founding of Christopher Newport.
Here is how he described the initiative, including its goals and the contributions he is requesting from the university community. Here is the full video of his address.
Christopher Newport is offering inspiring leadership.
Inspiring leadership. Those are the good words of our friend Judy Wason who serves as a member of our Board of Visitors, and Judy and Harry Wason established the Wason Center for Public Policy.
Today, I am announcing a major new two-year initiative that we will call Inspiring Leadership. Thank you, Judy Wason.
Our purpose is to expand Christopher Newport's reach and reputation and more powerfully and persuasively share who we are, our vision and values – what it means to lead a life of significance – and we need your support and help to succeed.
The time is right, because on September 18, 2021, two years from this day, Christopher Newport will be 60 years old.
You know, in our 30s and 40s and 50s, we aspired to make our mark and to influence others. Now, as we approach 60, we have living proof of our success and significance through the lives and good works of over 25,000 alumni.
Inspiring Leadership is a proof point. We are what we say we are. Our alumni are actually living lives of significance.
So here is what I am asking you to do.
First – Help us tell the story:
We will find and share stories of our alumni who are leading meaningful and consequential lives. Those stories will be told by us and also by well-known and respected people and organizations. Those stories will be shared broadly to reach as wide an audience as possible, including those who are unfamiliar with the impact and excellence of this University and our graduates.
Let me give you an example. Maria Booker, class of 2010, was just named by Northern Virginia Magazine as one of six Northern Virginians of the Year. Maria was an English major, leadership student and active in Greek life.
Today, Maria is the executive director of Chance for Life, a nonprofit raising millions for pediatric cancer research. Through targeted research and treatment, children are leaving hospice care and enjoying brighter futures because of Maria's good work. That's a life that matters and a story the world should hear – and there are so many others.
That's the kind of story we want you to help us tell. We will all soon receive an email with instructions on how to suggest stories, and we have a section of our website dedicated to telling stories about our amazing Captains and their lives of leadership and service.
Next, we will celebrate important milestones. (President Trible showed a slide listing an array of important anniversaries for an array of campus organizations).
We would be crazy not to seize these moments and celebrate each with joy … to generate energy across our community and for those for whom each milestone will have special meaning. These celebrations will inspire a deeper appreciation for the mosaic of experiences that inspire us to lead and serve.
Third, our university community – our students, faculty, staff and alumni must continue to make a difference – and we must do more.
As the stories of our graduates are told and our milestones celebrated, I believe our community's passion for service will be reaffirmed and enhanced.
We know so many already serve … coaching a little league team, working at a food pantry, teaching a Sunday School class. We are engaged and serving in so many ways in our community and our commonwealth, and country and world.
With your help we will record those hours so others will see our mighty impact. We will create what's called a social impact statement that shows just how much the Christopher Newport family contributes. Our students in the last year contributed over 100,000 hours of service.
Finally, we will ask for treasure. Just as we do on CNU Day, we will lift up specific projects and programs for particular support, with very specific goals and timelines, while always continuing to invite everyone to support those programs closest to their hearts. I ask you to help us identify these programs and projects, and together we will find the financial support to empower our students and faculty.
If we all do those three things … tell our stories, celebrate our milestones and make a difference by serving and giving … here is what we will accomplish.
Everyone will better know the remarkable ways this University and our alumni are inspiring leadership.
New audiences of prospective students and their families, donors, employers and thought leaders will know what Captains can do.
Alumni pride and commitment will soar as we tell these remarkable stories of leadership and service.
If we tell those stories, celebrate our milestones and make a difference … we will be able to honor our 60th anniversary two years from today with joy and purpose.
Joy. Purpose. Compassion. Leadership. Honor. Service.
That is who we are. It is what makes Christopher Newport different, distinctive and precious. Inspiring Leadership. For 60 years, for the future.
---