Read time:
---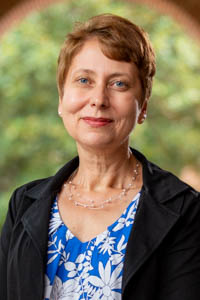 Dr. Martina Marinova, associate professor of English, has published Mikhail Bakhtin: The Duvakin Interviews, 1973. The book is a translation of the work of Viktor Duvakin, who in 1973 taped six interviews with Bakhtin over 12 hours. In the interviews, Bakhtin discusses formative moments in his education and exile; his reaction to the Revolution; his impressions of political, intellectual, and theatrical figures during the first two decades of the 20th century; and his nonconformist opinions on Russian and Soviet poets and musicians.
Marinova says Bakhtin never published his memoirs due to the extreme censorship in place under communism in the Soviet Union, but that in oral interviews he was able to speak freely, without fear of political repercussions. "What Western readers and scholars can learn from these conversations with him is invaluable," she says. "We already know that Bakhtin is a literary critic of major importance. It is time for us to enter into a more intimate and complex dialogue with his ideas in their entirety."
Marinova specializes in Russian and Eastern European literature and culture. She earned a PhD from the University of Texas.
---