Read time:
---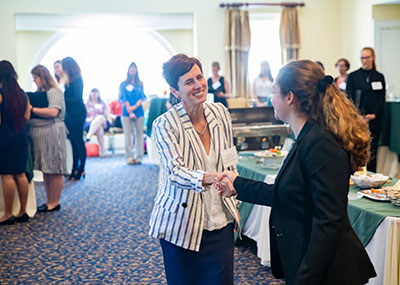 "I can't wait to get started," said freshman Danielle Graber upon meeting her professional mentor. That was a common sentiment from both students and mentors as the Department of Physics, Computer Science and Engineering (PCSE) launched this year's mentorship program.
The students and mentors, all women, met for the first time. Graber, a computer science major, is matched with Kristine Luttig, lead developer with Riverside Health System. Luttig is one of more than 30 professional women from Hampton Roads who are sharing their time and expertise with the students over the course of a year.
"This program helps develop a talent pipeline of young women professionals in STEM-focused careers," said Lisa Monaco, vice president and deputy general manager at Jacobs, an international design, engineering, construction and technical services firm. "I have no doubt I will learn as much from my mentee, Carly Wever, as she will learn from me." Wever is a senior majoring in applied physics.
The mentors come from a variety of industries and occupations. Shirley Yang is lead mechanical engineer on the cryogenic staff at the Department of Energy's Thomas Jefferson National Accelerator Facility (Jefferson Lab). "Through this program, I hope I can inspire more female students to pursue STEM professions and help them advance their careers," Yang said.
That's precisely the goal, according to Dr. Anton Riedl, PCSE chair. "We would like to thank all of our professional mentors for volunteering their time, talent and expertise to mentor our female students and for making a positive difference. Without them, this program would not be possible," Riedl said.
The mentorship program began in 2016 and has grown in size every year as the number of women in STEM disciplines at Christopher Newport has grown.
---